Dogtown Mural
Public mural pays homage to current and historical music scene of Des Moines' Dogtown district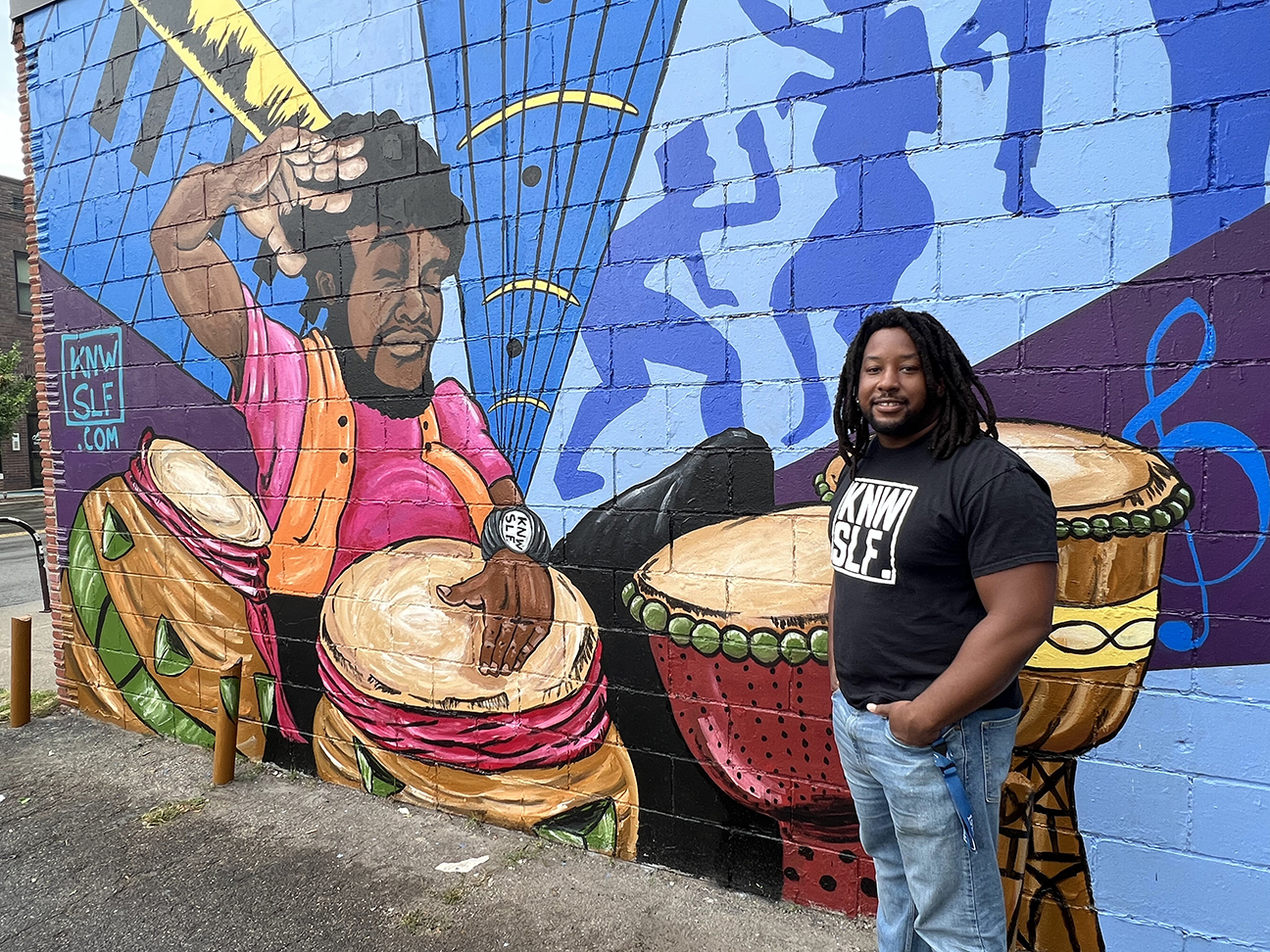 08/29/22
AMES, Iowa — Artist Jordan Brooks, the director of equity, inclusion and multicultural student success in the Iowa State University College of Design and owner of KNWSLF Art, recently completed his first permanent outdoor public mural in the Dogtown Business and Entertainment District of Des Moines.
Brooks painted the mural, titled "Heart.Want You Too," on the side of Lefty's Live Music at 23rd Street and University Avenue. The project was commissioned by Group Creative Services and Invest Des Moines with support from Wells Fargo and completed in collaboration with the Drake Neighborhood Association and the owners of Lefty's and Platinum Signature Barbershop.
To develop the design, "I met with Erik (Brown, owner of Lefty's) and Big Rob (Presswood, owner of the barbershop, also known as Platinum Kutz) along with folks in the area to hear their vision for the mural," Brooks said.
"They wanted something that spoke to both the current scene and the history of jazz in Des Moines, and reggae artists and DJs performing at that spot long before it was Lefty's."
The three agreed on a concept reminiscent of "The Sugar Shack" painting by Ernie Barnes, featured on the cover of Marvin Gaye's 1976 studio album, "I Want You."
About the same time they were discussing options for the artwork, Kendrick Lamar released a song called "The Heart Part 5" that samples the "I Want You" beat. For inspiration, Brooks listened to Gaye's album and Lamar's single on repeat.
"My creative process often has me listening to songs with the vibe I'm looking to create with my work," he said.
Brooks began with an initial pencil sketch, then moved to Procreate software to create a digital painting. Once Brown and Presswood approved the digital version, Brooks took it back down to flat colors and line work and prepped the wall with a graffiti doodle grid before filling in with exterior paint and spraypaint.
Public art tour
From prep to finishing touches, the mural took five days to complete, with volunteers from Wells Fargo, the two businesses and the neighborhood as well as Brooks' own Draw from Life group helping over the weekend in mid-July.
"I think the listening I did before designing the image paid off. While I was working on the mural, people passing by stopped to talk and comment about how well it was coming together and how much they liked what I was doing," Brooks said.
"I appreciate the trust placed in me. It means everything to know I could contribute something to the neighborhood that people who live and work there love."
The completed mural features a Black musician (a loose self-portrait) playing a set of djembe — traditional West African drums prominent in both Gaye's and Lamar's songs — with a synthesizer, a fretboard, dancers' silhouettes and musical notes radiating outward behind him.
On Saturday, Sept. 10, Brooks will be on site to talk about the mural with participants in the Des Moines Art Center's Salon 4700: Hop-On Hop-Off Public Art Tour. Register online by Sept. 5. Prints of the original digital painting for the mural are available for sale on Brooks' website.
'Work in Progress' exhibition
Brooks is part of the "Work in Progress" exhibition with artists Susan Norris and Lindsay Wede Aug. 20–Oct. 1 in the Community Gallery at the Octagon Center for the Arts in Ames. The artists will be present Thursday evenings and Saturday mornings and invite the community to engage with them in conversations about their artistic practices. A public reception will be from 6–8 p.m. Thursday, Sept. 1.
Brooks was also a featured artist in the "In Living Color: Black Art in Iowa" exhibition in person Aug. 27 at Threshold Gallery in Cedar Rapids and will give a virtual artist's talk in September via Zoom and the Threshold Gallery Instagram account @threshold.gallery.
Contacts
Jordan Brooks, Director of Equity, Inclusion and Multicultural Student Success, College of Design, 515-294-9555, jwbrooks@iastate.edu
Heather sauer, Director of Strategic Communications, 515-294-9289, hsauer@iastate.edu
-30-