STEM for All Showcase
ISU research project part of 2022 STEM for All Video Showcase May 10–17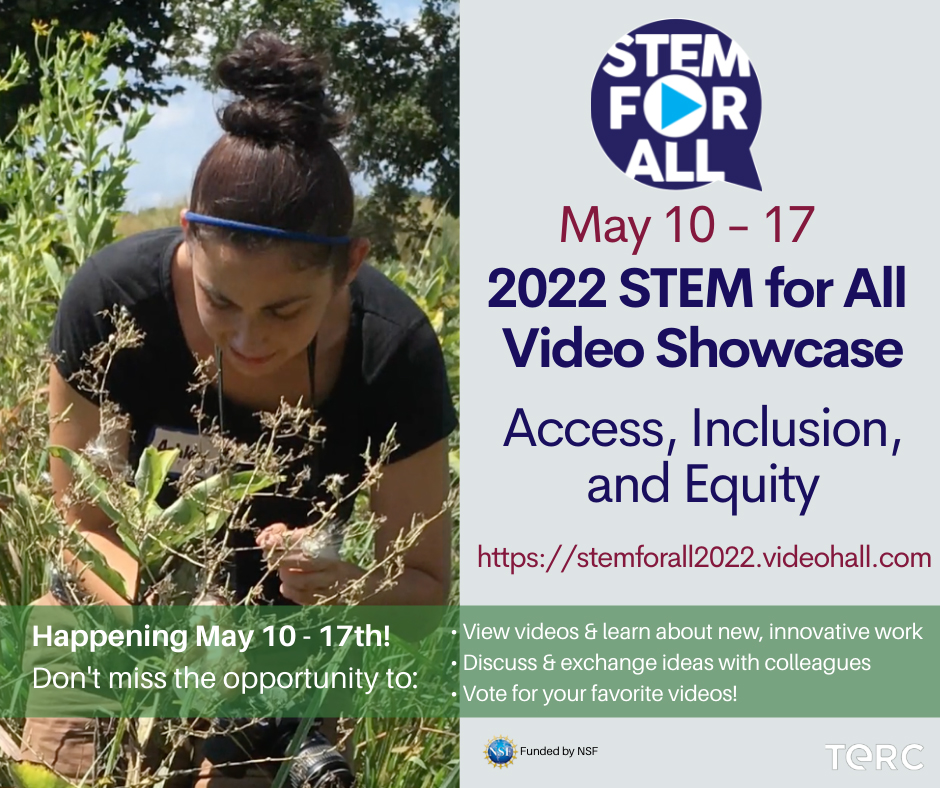 05/10/22
AMES, Iowa — An Iowa State University research project on "Co-designing Inclusive and Place-Based STEM Programs" is featured in the 2022 STEM for All Video Showcase: Access, Inclusion and Equity May 10–17.
Now in its eighth year, the showcase features more than 250 federally funded projects aimed at improving STEM and computer science education. During the eight-day event, researchers, practitioners, policy makers and members of the public are invited to view the short videos, discuss them with the presenters online and vote for their favorites.
Voting and discussions end at 7 p.m. CDT Tuesday, May 17. Iowa State's video is available at https://stemforall2022.videohall.com/presentations/2323.
The Iowa State project looks at how inclusive and place-based educational delivery models for rural workforce development can benefit communities with large numbers of low-skilled workers. Funded by NSF's Smart & Connected Communities Program, it is the first externally funded research project generated through the ISU PIRI (Presidential Interdisciplinary Research Initiative)-funded TechTHRIVE initiative.
Members of the ISU research team are:
Evrim Baran, associate professor of educational technology
Kimberly Zarecor, professor of architecture
Eliot Winer, professor of mechanical engineering and director of the Virtual Reality Applications Center
Anindita Das, currently the diversity, equity and inclusion strategist for the College of Design and formerly the stakeholder and partnership development program coordinator for ISU Extension and Outreach 4-H Youth Development
Carlos Cardoso, associate professor of industrial design
Caroline Westort, associate professor of landscape architecture
Tom Daniels, associate teaching professor in electrical and computer engineering
Nichol Kleespies, northwest field team supervisor for ISU Extension and Outreach 4-H Youth Development
Ezequiel Alemán, graduate student in education
Anasilvia Salazar, graduate student in education
Alex Renner, graduate student in mechanical engineering
Lilian Juma, undergraduate architecture student and a research intern with the project as part of the LSAMP-IINSPIRE program
"Rural communities nationwide are challenged in providing youth and families access to learning opportunities that expose them to diverse STEM career opportunities and role models," Zarecor said.
"Despite these challenges, rural communities hold great capacity to foster local STEM learning ecosystems and entrepreneurial activities because of close community relationships, proximity to natural resources, and potential for integrating STEM into their daily lives."
The theme for this year's STEM for All Video showcase is "Access, Inclusion and Equity." Video presentations address broadening participation; STEM learning in formal, informal, community and home settings; design and implementation of STEM and CS programs; research informing STEM and CS teaching and learning; and measuring impact of innovative programs.
The showcase is hosted by TERC, in partnership with: STEMTLnet, CADRE, CAISE, CIRCLS, STELAR, CS for All Teachers, NARST, NCTM, NSTA, NSF INCLUDES, and QEM. The showcase is funded by a grant from the National Science Foundation (#1922641).