Reliable Street + Lockwood Cafe
Creativity, community and coffee: Reliable Street, Lockwood Cafe continue to build connections during pandemic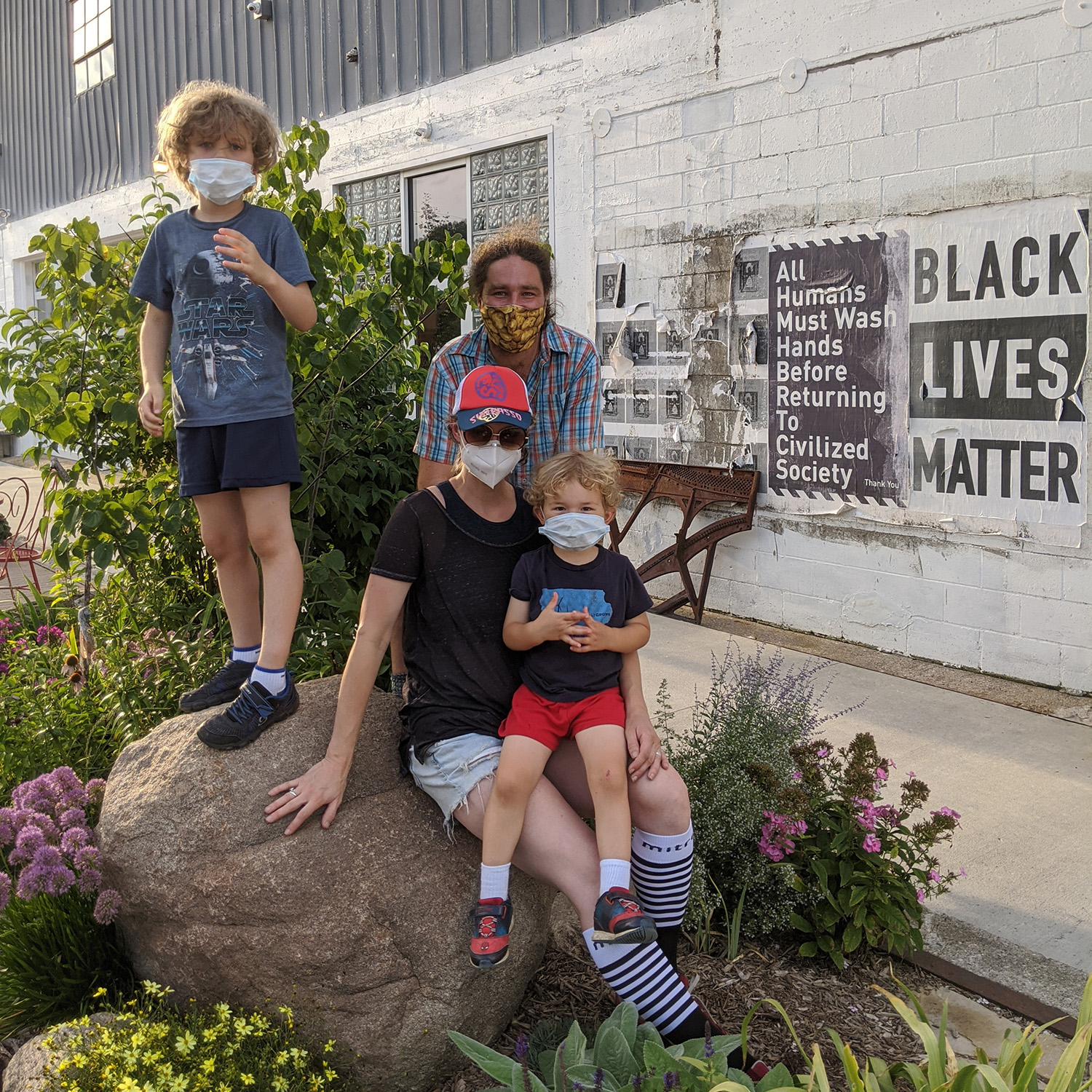 09/30/20
AMES, Iowa — Iowa's rural landscape sprouts countless agricultural buildings, from barns to silos to grain elevators. As the number of family farms has dwindled and the technology for getting crops to market has evolved, many such structures have fallen into disuse and disrepair.
Spurred by the desire to provide a creative community gathering space and breathe new life into an old facility, Iowa State University alumni and faculty have spent the past four years turning one of these — a former feed mill and warehouse on the northwest side of Ames — into Reliable Street and Lockwood Café.
The building complex on the eponymous Reliable Street is co-owned by artist Lyndsay Nissen, who received a master of fine arts in integrated visual arts from Iowa State in 2015, and her husband, Elliott Thompson, who also owns Alluvial Brewing Company; Austin Stewart, associate professor of art and visual culture, and his wife, artist Sharon Stewart; with Dan DeGeest, who received a bachelor of science in computer science from ISU in 1994; and Alex Braidwood, associate professor of graphic design.
Local entrepreneurs Nissen and Thompson were looking for a large space to accommodate artist studios and provide a venue for live music, theater and other activities. When the building came on the market in 2015, they sought other investors to help realize their vision.
The Stewarts were natural business partners. Sharon dreamed of owning a café, and Austin shared Nissen's goal of opening a community art gallery. But the building — once the site of Lockwood Grain and Coal Company, for which the café is named — needed lots of work to bring it up to code and ready to welcome guests. During the summers of 2017 and 2018, the Stewarts operated the café as a food cart on the property while they worked with Nissen and Thompson to rehab the interior.
Costs mounted as the team navigated city zoning and other challenges. A Kickstarter campaign in May 2019 raised more than $10,000 to help fund remaining renovations. Other backers donated time, building materials, furniture and artwork — an outpouring of community support for a community-focused venture. Lockwood Café opened its new doors last October. (See details of first-anniversary event on Sunday, Oct. 4.)
Casual community hub
Before Stewart earned his master of fine arts from Ohio State University in 2012 and joined the College of Design faculty in 2013, the couple had lived in Colorado and worked at restaurants that served as community hubs. They wanted to create that casual vibe at Lockwood.
"As we explored Ames, we discovered there were no cafés with bar seating as an option. We knew from experience that people would come in, sit at the bar and drink their coffee. Eventually that became lots of regulars coming not only for coffee but to see each other every day," Stewart said.
The Stewarts wanted people to be able to sit at the bar and meet others. They also wanted guests to build relationships with the staff who work there. Rather than table service (using waitstaff to take and deliver orders to tables), Lockwood has counter service, so customers can converse with staff when they place and pick up orders, then relax for as long as they wish at their tables.
The café serves sweet and savory crepes — one of Sharon's specialties — along with coffee and tea, including local Morning Bell Coffee Roasters and Little Woods herbal brands.
"Our friend who owns the Little Woods tea shop downtown was like, 'We all invested a lot of time and energy to have our high school jobs back — you know, serving food and coffee," Stewart said, laughing.
Accessible art
Hired to teach digital media courses at Iowa State, Stewart also brought an emphasis on community involvement and socially engaged art, a focus shared by Nissen and Thompson.
"Now that the café is open, a big part of my art practice is what we're doing in the space: the programming, and being welcoming and inclusive," Stewart said.
Adjacent to the café is a gallery displaying work by local artists. The space also hosts events, from theatrical productions and open-mic nights to exhibitions and musical performances — all paused during the COVID-19 pandemic.
Reliable Street and Lockwood Café collaborate with other Iowa State faculty and students on activities as well — including a May Day festival organized by assistant professor of art and visual culture Jennifer Drinkwater's "Art and Social Capital" course in 2019, and a design-build project by all five sections of the second-year architecture studio in spring 2017. "Shift," a large wooden structure that integrates both seating and play spaces, is a permanent outdoor installation illuminated at night with an architectural light display.
"That was an amazing project, to see the students building something that was going to be permanent," Nissen said. "We have students from that studio still come hang and point out their piece, which is cool."
They've also hosted Trend magazine photoshoots and ISU Theatre's production of several members' one-act plays. And Stewart uses the gallery for his classes' semester-end exhibitions.
To further bring art and community together, the café features an "art bar" that, pre-pandemic, served beer and wine in the evening, so people could enjoy the gallery in a social, accessible way.
"The art world often seems kind of pretentious and inaccessible, so we wanted a way people could stumble upon it more readily than feeling like they have to go to an 'art space,' which can feel really intimidating," Nissen said.
The property also features a community garden and a medium-sized shed that houses the "Always Open Free Thrift" shop, where residents can pick up and drop off items as they wish, which further encourages (physically distanced) interaction between people from all backgrounds.
Pandemic pivot
Lockwood Café and the gallery had been open five months when COVID-19 arrived. Thompson, who had traveled out of state briefly at the beginning of March, soon fell ill and tested positive for COVID, just as the World Health Organization declared the virus a global pandemic.
After learning of Thompson's diagnosis, the Stewarts closed the café, intending to self-quarantine as a precaution. Iowa Governor Kim Reynolds then issued her emergency proclamation ordering restaurants and bars to close for the rest of March, later extended through May.
The Stewarts, too, experienced symptoms, but were turned down for testing at the time. Given the complications of staffing and safety considerations, they chose not to offer takeout even after they recovered. The café reopened Aug. 1 as students returned to Ames for the start of Iowa State's fall semester.
Since then, several of Lockwood's crew have been unable to work because they were potentially exposed to COVID-19 and "our policies for self-quarantine exceed CDC guidelines — we want to keep our community safe," Stewart said. "We're a small business, however, and if too many staff need to miss work at once, we'll have to close again."
Reliable Street had been set to host "Fortress of Light" — a production involving projection mapping onto the former feed mill towers — in June with funding from the Iowa Arts Council and Ames Convention and Visitors Bureau. Because they'd already purchased video cameras and projectors for that project, they had to brainstorm new ways to use the equipment, Nissen said.
One solution was the "Social Distance Drive-In," for which they projected public domain films onto the towers so people could watch movies "together" from the safety of their vehicles. They've also hosted game nights, projecting the game screen onto the building so players can participate at a distance from their phones.
The Stewarts, Nissen and Thompson took advantage of the down time this summer to make improvements, too, including a children's garden and additional outdoor seating to create a COVID-safe environment for patrons. Country Landscapes donated the plants and hardscape for the garden, and Mary Jane Brotherson, professor emeritus of human development and family studies, has taken the lead in coordinating volunteers and maintaining the garden.
In recognition of their efforts, Nissen and Sharon Stewart received the 2020 Veronika Ruedenberg Cultural Entrepreneur Award from the Ames Community Arts Council in September for "being community-minded pioneers who have show the vision and courage to break ground for a new institution that enriches the cultural life of Ames, creating something where there was nothing."
As they mark the first anniversary of opening Lockwood Café and the gallery, the team notes they could not have predicted how different the world would be today. "Our goal is to bring people together, and we've had to figure out how to do that while staying six feet apart," Stewart said.
"We're still trying to find ways to get the community involved," Nissen said. "Especially in a time of distancing and isolation, bringing people together is crucial."
Contacts
Austin Stewart, Art and Visual Culture, astewart@iastate.edu
Lyndsay Nissen, Reliable Street, lyndsay@reliablestreet.com
Heather Sauer, Design Communications, hsauer@iastate.edu
-30-