OPN Masterclass
Design for exploration's sake: Students learn to engage more fully without a preconceived outcome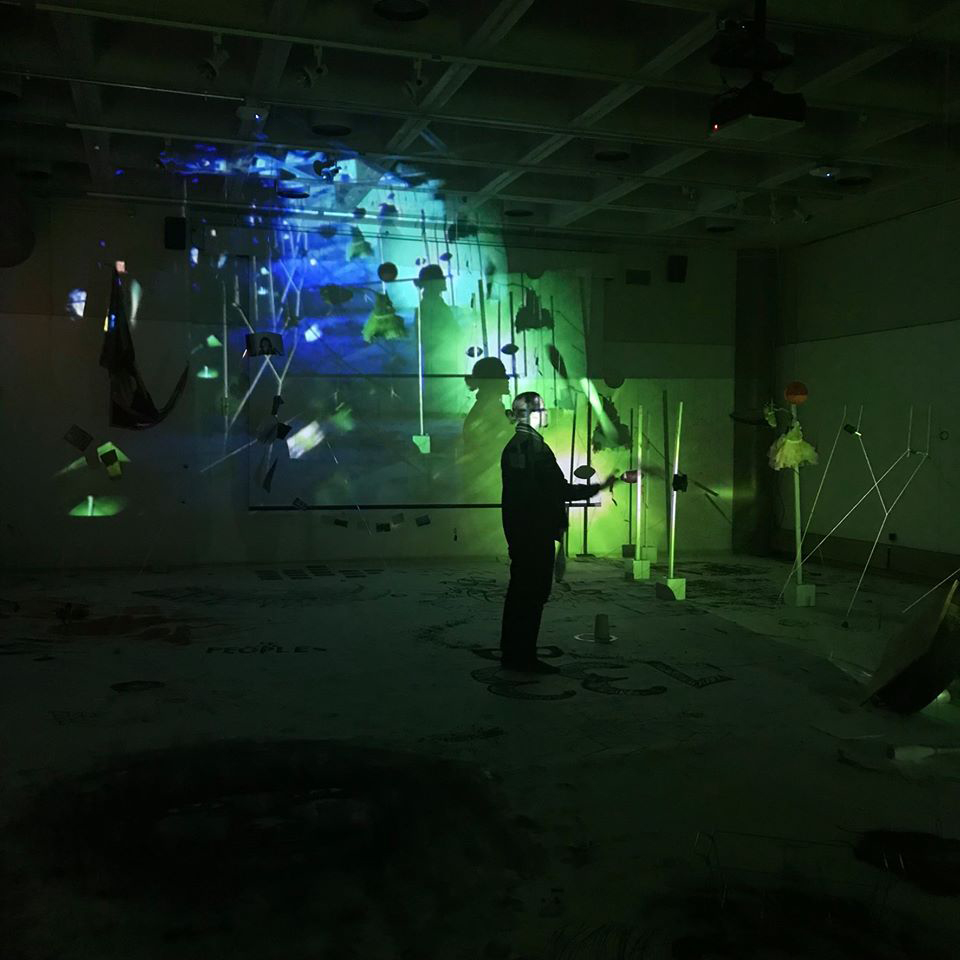 02/06/20
At 10 a.m. on the first day of spring semester, 50 Iowa State University architecture students sat in rows in the College of Design's Gallery 181, facing a projected image of the sun, burning orange against a blank wall. David Gersten and Frida Foberg had a challenge for the fourth-year undergraduates and graduate students: Design without a known outcome.
During the week of Jan. 13–17, the ISU Department of Architecture hosted its annual OPN Masterclass, led this year by Gersten and Foberg. Gersten is a professor and the director of interdisciplinary learning at the Cooper Union and the founding director of Arts Letters & Numbers, a nonprofit arts and education organization with Foberg as associate director.
"We don't come with a fixed score or curriculum, or with a known objective," said Gersten. "At every present-tense moment we must stay attuned to what's happening. If it was a set curriculum, and we knew what we were going to get at the end, then in a way, we don't need to be here."
Listening and engaging
Now in is fifth year, the OPN Masterclass — sponsored by Midwest design firm OPN Architects — brings globally recognized professionals to campus to lead intensive workshops for Iowa State architecture students. One of Arts Letters & Numbers' primary activities is educational workshops that ask participants to think with "creative urgency and intensity of purpose" in order to spark inspiration and imagination, and design with outside-of-the-box ideas.
On day one, Gersten and Foberg asked students to bring an item that was part of their personal story, and a random item. These were the stepping stones that would lead into a weeklong creative journey arranged in what the guest faculty called "sequences." From 10 a.m.–5 p.m. each day, the pair led students through a design process consisting of imaginative additions, interdisciplinary thinking and, most important, listening.
"The capacity to listen to the spatial environment that they're in, to develop their attunement to [it]… amplifies their sensitivity to movements, gestures, actions and marks," Gersten said. Through listening and engaging, the students learned how to become more active participants in the design space.
The sequences included imprinting their personal object into the design space, suspending the object in air and using video projections of the room. At each step in a sequence, the students were challenged to think of ways to convey their personal stories in the space through their items. What began as an empty white room soon transformed into a cacophony of design.
Blank slate for storytelling
Tom Goetz, a third-year architecture graduate student from Ankeny, said he was grateful for the opportunity to be part of something so creative. The project took him out of his normal process, and the abstract thinking was refreshing for him. "It's a display of how many possible outcomes could happen from a blank slate," he said.
Goetz started his story with a football, his sentimental item. To determine his random item, he went on a hike. "I followed some fox tracks until I found an acorn, picked it up and brought it in," he said. "Nothing really philosophical about this one, just an exploration."
"We're so used to being set in environments where you're supposed to deliver certain things," said Foberg about the importance of taking a step back and creating with imagination. This process allowed students the opportunity to design without the pressure to deliver something specific, leading to more creative thinking.
Fourth-year undergraduate Tuyen Le, from Ho Chi Minh City, Vietnam, echoed this sentiment.
"Design these days is so much more fast-paced because of the internet. That is why most aspects of designs are reduced to how eye-catching it is, and less about the soul of the project," she said. "I came to understand that design is a significant storytelling technique."
The objects Le chose for the masterclass were a blanket made for her by her grandmother before she died, and a discarded envelope she found. Le chose the envelope because she recognized it must have had significance to someone before it was thrown away, and sought to bring new meaning to it.
Collin Lytle, a second-year graduate student from Cedar Rapids, described the whole week like a game of Twister. "At first people were like 'this is my object so this is my space' and we all were designing separately, but as the week went on and the new sequences were introduced, they started to blend. So this final outcome is like all of our stories together," he said.
Part of Lytle's story was a Harry Potter music box playing "Hedwig's Theme" that a friend once gave him as a gift. "I thought it was good for this project because it reminds me of the series, and of my friend," he explained. His random item was a puzzle game found at Goodwill, which coincidentally became a pretty good metaphor for the process the rest of the week.
Layers create the space
At the end of the week, the students shared their design explorations in a public installation and reception. In his final remarks before the event, Gersten said, "You shouldn't make a drawing to show something, you should make a drawing to see something. Every layer creates the space."
And inside the gallery, the layers of every student's work, overlapping and intermingling, did indeed create the space.
Projectors whirred feedback loops of different parts of the room onto the walls, which were covered in drawings and writing. From the ceiling hung papers, string, a flag and many other objects. Mannequins posed in the room. The students were silent and still —in anticipation, or awe, or burnout from the recent frenzied creation — but the room seemed filled with sound and action. The outcome was nothing anyone could have imagined when they began – and that was the point.
Contacts
Firat Erdim, Architecture, (515) 294-8256, firat@iastate.edu
Hailey Allen, Design Communications, hallen15@iastate.edu
Heather Sauer, Design Communications, (515) 294-9289, hsauer@iastate.edu
-30-