Emerging Iowa Artists
Des Moines Arts Festival features emerging artists from ISU College of Design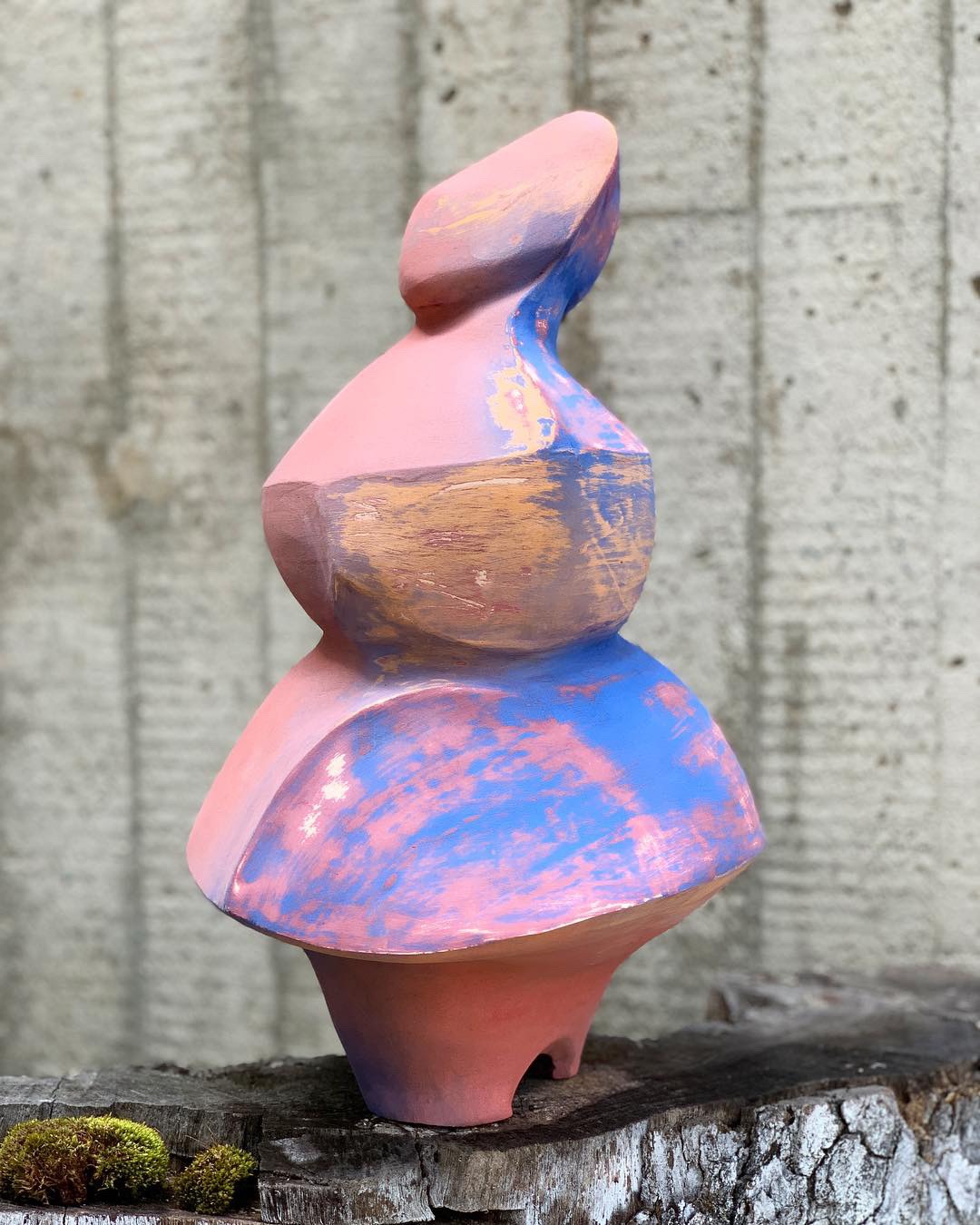 06/24/19
AMES, Iowa — An Iowa State University College of Design student and three recent graduates have been selected as Emerging Iowa Artists at the 2019 Des Moines Arts Festival, June 28-30 in downtown Des Moines' Western Gateway Park.
In its 17th year, the emerging artists program provides an opportunity for young visual artists to showcase their talent at one of the nation's top arts festivals, which annually attracts more than 200,000 visitors.
Darya Geary, Evanston, Illinois; Kelly Devitt Steenhagen, Ames; Mason Howerzyl, originally from Pella and now of Ames; and Anna Segner, originally from Owatonna, Minnesota, and now of Ames, all will make their debut this year.
Geary will be a senior in integrated studio arts at Iowa State in the fall. Devitt Steenhagen received a bachelor of fine arts in integrated studio arts in 2017 and has worked as a studio assistant with the Department of Art and Visual Culture since graduation. Howerzyl received a bachelor of landscape architecture and Segner received a master of fine arts in integrated visual arts, both in May.
Chris Vance, who received a BFA in visual studies in 2000, is among the 180 professional artists chosen to participate in the festival. An accomplished painter from Bondurant, he has been a part of the event since 2005 and has mentored Howerzyl through a critique group called Paint Pushers.
Emerging artists
Geary will exhibit jewelry made with found and hand-dyed fabrics as well as paintings and drawings in a variety of media, including acrylic, oil, watercolor, graphite and ink.
"My work represents me," she said. "I love to wear as well as create patterns, and in most of my work the use of patterns is very prominent. I create what I see or want to see exist in this world."
Devitt Steenhagen, who has been accepted into the master of fine arts program in ceramics at the University of Massachusetts Dartmouth this fall, will show a range of functional and sculptural hand-built ceramics. Her functional work includes mugs, bowls and baskets in vivid shades of green. Her sculptural work represents abstract female forms ranging in size from a few inches high to the largest, which is three feet tall.
"A lot of the work is about two sides of a personality. On certain pieces, one side is a warm and inviting color while the other will be a cold color with a worn texture, showing the layers of a person," Devitt Steenhagen said. "The head may be tilted up like it has confidence, or hang down if it doesn't."
Howerzyl will exhibit acrylic paintings on paper and panel from what he calls his "square period."
"I find that I react to what I find aesthetically pleasing, and right now it is squares! I like to work quickly and let my natural creativity take control instead of focusing too much on detail," he said. "My paintings are textured and colorful."
Segner, who will join the Department of Art and Visual Culture as a lecturer in the fall, integrates text and collage with painting in work inspired by research in animal studies, material culture studies, literature and environmentalism. She will exhibit paintings from 6 inches square to three-feet-by-four-feet as well as sketches and cards with prints of her work.
All four artists appreciate the opportunity to share their work with the public and learn more about the art festival process.
"I have never done a festival before, so I think the most challenging aspect is not really knowing what to expect," Segner said. "It will be rewarding to talk with all the people who walk through and see behind the curtains of how art festivals are organized."
Festival hours and artist demonstrations
Festival hours are 11 a.m.– 10 p.m. Friday, June 28, and Saturday, June 29, and 11 a.m.–5 p.m. Sunday, June 30. Admission is free. The ISU emerging artists will share their work and techiques in demonstrations scheduled throughout the weekend:
Friday, June 28
12 p.m., Kelly Devitt Steenhagen, hand-built ceramic baskets
3 p.m., Anna Segner, contemporary painting and collage techniques, including how to transfer images
Sunday, June 30
12 p.m., Darya Geary, acrylic or mixed-media painting showing how she builds her work in layers
1 p.m., Mason Howerzyl, his process for working on several paintings at once in the studio
Contacts
Kelly Devitt Steenhagen, May 2017 Integrated Studio Arts graduate, kjdevitt@iastate.edu
Darya Geary, Integrated Studio Arts senior, darya97@iastate.edu
Mason Howerzyl, May 2019 Landscape Architecture graduate, howerzyl@iastate.edu
Anna Segner, May 2019 Integrated Visual Arts graduate, ansegner@iastate.edu
Heather Sauer, Design Communications, (515) 294-9289, hsauer@iastate.edu
-30-