Obbink MFA Exhibition
Master's thesis exhibition features imaginative gadgets Nov. 2-15 at ISU College of Design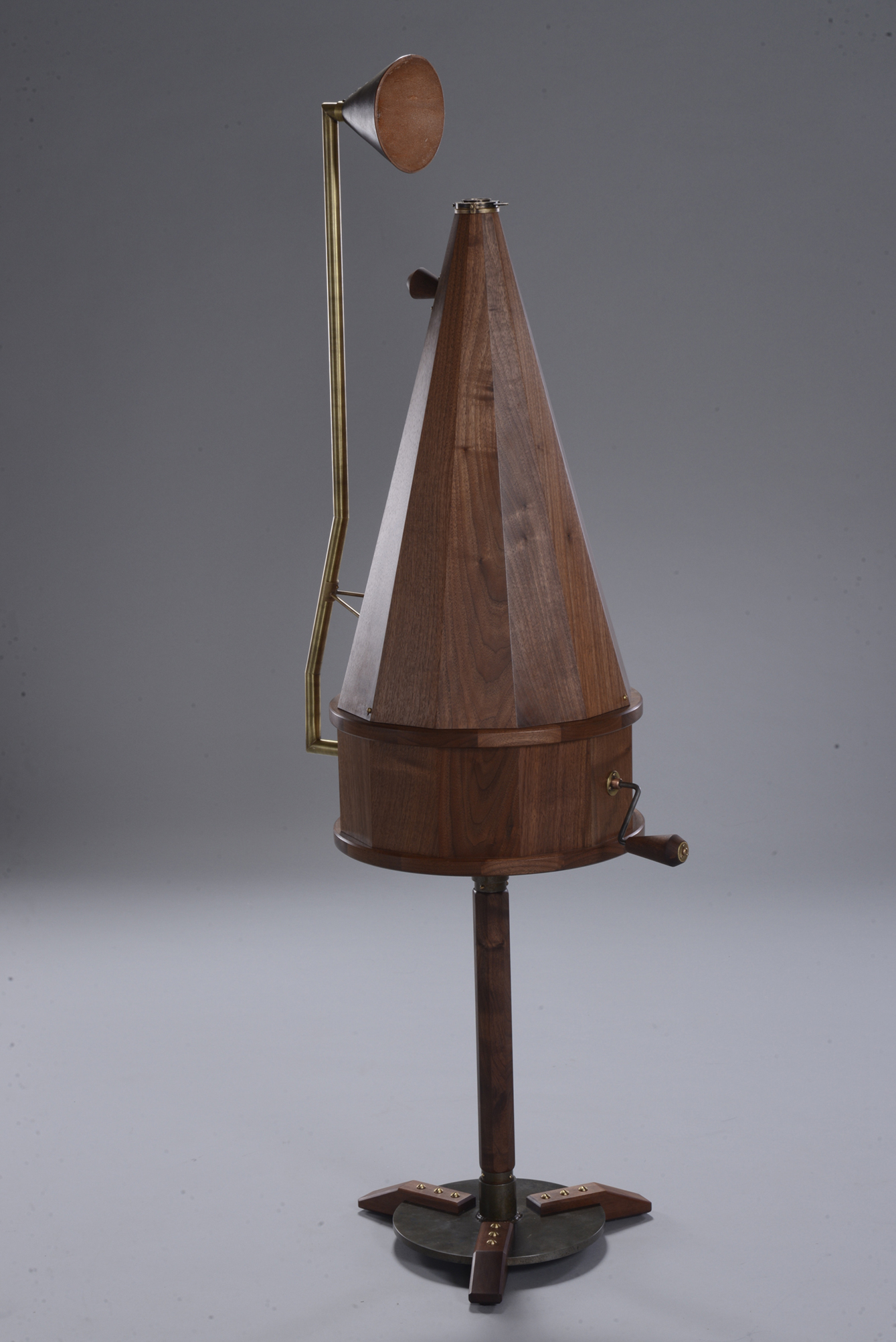 11/2/17
AMES, Iowa — An exhibition of inventive contraptions inspired by an ancestor's journal entries is on display Nov. 2-15 at the Iowa State University College of Design.
"Building Eugene" is the Master of Fine Arts thesis exhibition of work by ISU integrated visual arts graduate student Matthew Obbink, Ames. The show is open from 8 a.m. to 4:30 p.m. weekdays or by appointment in the east side of Gallery 181 (room 181-1) on the first floor of the College of Design. A public reception will be from 6-10 p.m. Friday, Nov. 10. Obbink will give a brief artist talk and answer questions at 6 p.m.
Years ago, Obbink discovered a journal belonging to his great-great-great uncle Eugene in his grandmother's attic. The journal, containing entries from 1880 to 1910, held stories, drawings and inventions that Obbink chose to re-create and reinterpret in order "to better understand the man he was and the maker I have become."
The resulting exhibition "is a tribute to Eugene, his inventions and how he has influenced my work," Obbink says in the artist statement accompanying the show, which features recognizable objects like a rocking chair and a bench as well as less obvious gadgets, including a "Self-Portrait Apparatus" (ash, white oak, brass, rubber, string, repurposed camera components, leather) and a pair of spiky copper-plated devices to prevent nail-biting.
About the artist
Obbink received a Bachelor of Fine Arts in integrated studio arts from Iowa State in 2006 and has worked in several cabinetry and woodworking shops, including Fine Line Woodworks in Bondurant.
As a graduate student, he received a $1,500 Merit Scholarship from the Society for Midwest Metalsmiths in 2016, and his "Signal Horn for an Industrialist" (brass, cherry, rubber ball) — part of his MFA thesis exhibition — was featured on the society's website. Another of the works in the current show, "Inside the Mind of a Maker" (walnut, brass, steel, 120 mm slides, found objects), won first place in the "49th Annual Clay, Fiber, Paper, Glass, Metal, Wood" juried exhibition at the Octagon Center for the Arts in Ames earlier this year.
Obbink's "Dunnage Stool #1" (recycled wood, natural stains and paints) won Best in Show in the juried 2017 Biorenewables Art Competition sponsored by the ISU Bioeconomy Institute and is now part of the Biorenewables Research Laboratory's permanent art collection. His work also has been exhibited in numerous shows at the Iowa State Memorial Union, including "Art Inspired" and "Studies in Creativity."
Obbink will graduate with an MFA in integrated visual arts from Iowa State in December.
Contacts
Matthew Obbink, Integrated Visual Arts, obbinker@iastate.edu
Heather Sauer, Design Communications, (515) 294-9289, hsauer@iastate.edu
-30-