Emerging Creatives Summit
ISU design students explore global water challenges at a2ru Emerging Creatives Summit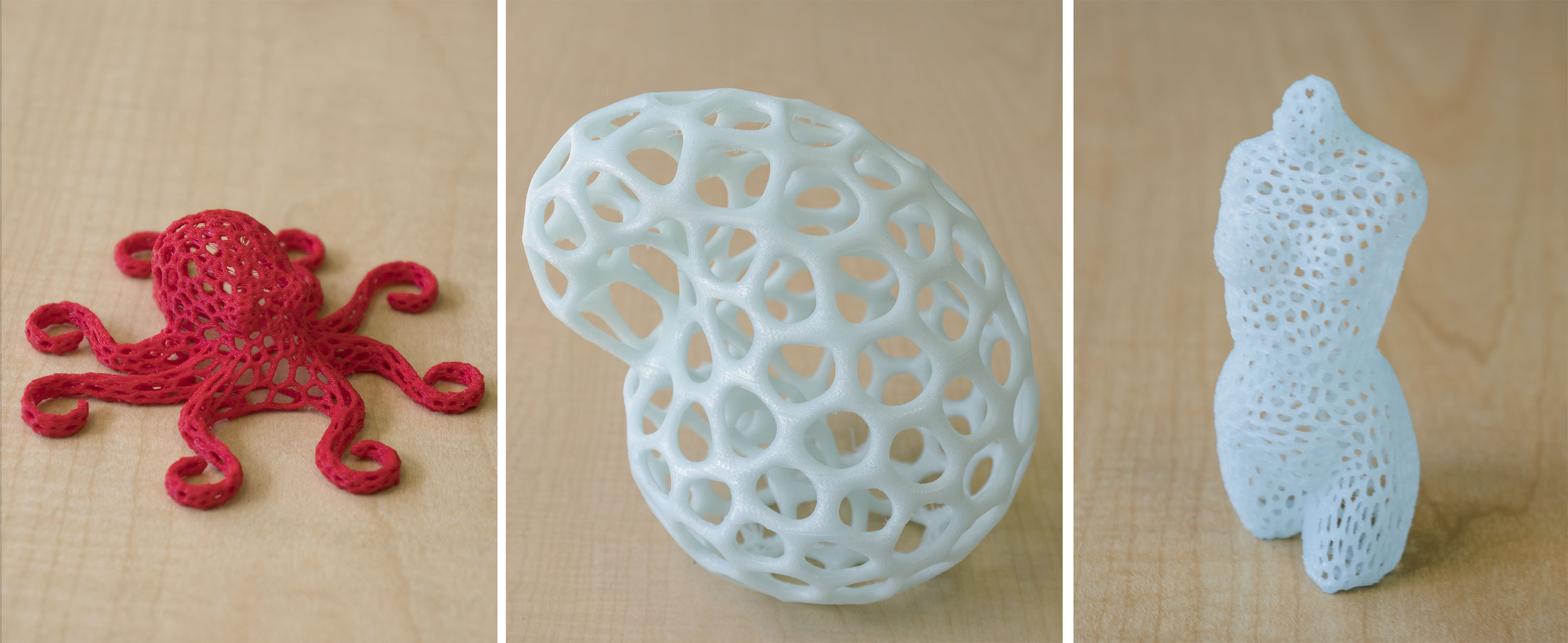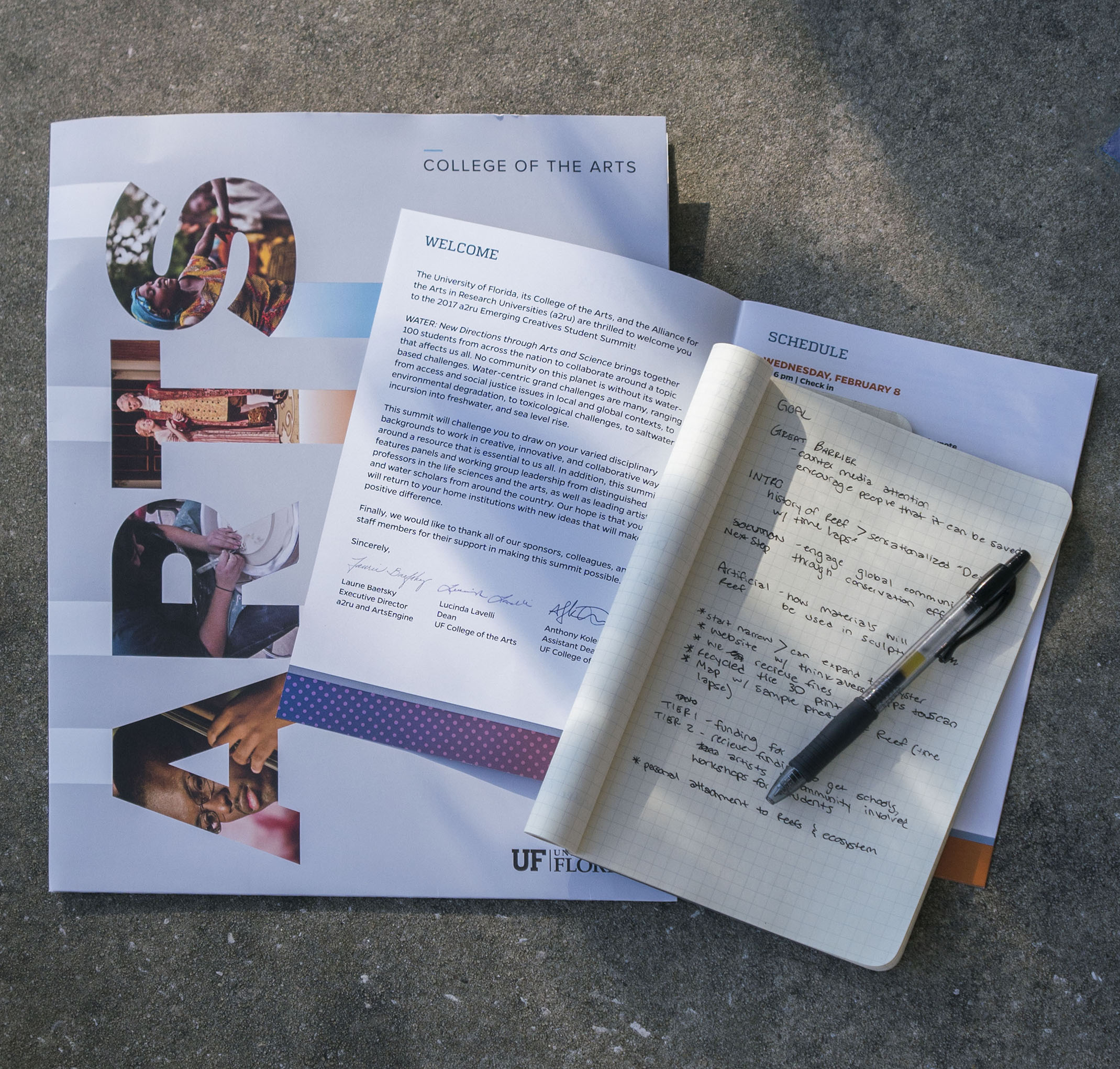 02/21/17
AMES, IA — Three Iowa State University College of Design students joined peers from institutions around the nation recently to address water-related issues from the perspectives of both art and science.
Sarah Reagan, Apple Valley, Minnesota; Lauren Roberts, Olathe, Kansas; and Matt Wilson, Chicago, Illinois, attended the Alliance for the Arts in Research Universities (a2ru) Emerging Creatives Student Summit Feb. 8-11 at the University of Florida. The conference on "Water: New Directions through Arts and Science" brought participants together to explore water-centric "grand challenges" related to access and social justice, environmental degradation, toxicological issues, saltwater incursion into freshwater and sea-level rise, among others — and to propose projects to solve them.
Reef habitat conservation
For Reagan, a senior in integrated studio arts and international studies who also attended last year's summit on resilient cities, the event was "a phenomenal experience that strengthened my confidence in our generation and the necessity of interdisciplinary collaboration, especially with the idea that science is not whole without design and design is not whole without science."
During the conference, in addition to attending keynote lectures and panel discussions, students formed teams of three to five members to develop a water-related concept and present their work at the end of the summit.
"We chose to focus on reef habitat conservation and more specifically on education around this issue. We aimed to use sculpture as a conservation, education and research tool," Reagan said. "The plan we proposed involved the creation of sculptures that would be used as bases for artificial reefs that are located away from currently damaged reefs. These would provide a way for scientists to observe possible solutions for reef rehabilitation and help educate the public on how tourism damages reef ecosystems."
Reagan's group — which included four other students from the University of Alabama, the University of Florida and Virginia Commonwealth University — has submitted a request to fund the project through a2ru, but it's unlikely she will be able to continue collaborating on the effort. After graduating with her Bachelor of Fine Arts in May, she will begin a 27-month term as a Peace Corps volunteer teaching gender equality and English in Togo, West Africa.
Water equality and policy management
A freshman in the College of Design's Core Design Program who is interested in climate change, Roberts saw this trip as an opportunity to get more involved. When asked about her student group experience, she said, "We were all so different and we each brought something different to the table. We still talk and are thinking of applying for the summit grant to help us make our idea a reality."
Her group "designed a water feature that brought up the idea of water equality between countries. It was a splash pad that kids could run through and interact with," she said. In the future, Roberts wants to "design pieces that have a real impact on the world."
Wilson, a graduate student in sustainable environments, attended the summit "to meet other people, share ideas and grow while all making progress towards a common goal. My favorite part was working in groups. It was very interesting looking at other peoples' creative processes and seeing how they work through problems," he said.
"We came up with a tool that enabled city government or residents in an area to pull up stats on budget and water infrastructure and divvy up the amount they want to distribute for different services out of the total budget. It was really a tool to disseminate budget control and policy management and connect people to those who can implement policy changes."
Wilson received a Bachelor of Fine Arts in integrated studio arts from Iowa State in 2016 and will graduate with his Master of Design in sustainable environments in May. After graduation, he plans to return to Chicago and "work with public projects to aid social and environmental issues" in an interdisciplinary studio or complete a post-graduate fellowship at the University of Chicago. "The way I understand work is that to make progress you have to experiment. You have to share stuff and learn along the way," he said. The Emerging Creatives Student Summit was one step toward that, he said.
Guidance and inspiration
The Iowa State students were accompanied to the summit by Austin Stewart, assistant professor of art and visual culture and an affiliated faculty member in sustainable environments. Stewart's research is "interdisciplinary and often based on water and water quality issues, so attending was a natural fit," he said. "This conference as a whole was one of the least programmed conferences I've ever been to, and this is a good thing. The structure provided enough information to guide and inspire the students without overwhelming them."
Stewart functioned as what the summit termed an "idea Sherpa." In this role, he "offered guidance during the creative process" when students were in their groups, he said. He also participated in a guest speaker panel.
This is the fourth year Iowa State students and faculty advisers have been involved in the a2ru student summit, first held in 2014. In past years, students from both the College of Design and the College of Engineering attended. Stewart, Reagan, Roberts and Wilson have proposed a mini-conference on campus to promote participation from multiple colleges at next year's event.
Contacts
Austin Stewart, Art and Visual Culture, (515) 294-5158, astewart@iastate.edu
Sarah Reagan, Integrated Studio Arts, skreagan@iastate.edu
Lauren Roberts, Core Design Program, ler24@iastate.edu
Matt Wilson, Sustainable Environments, mwilson@iastate.edu
Paige Adams, Design Communications, psadams@iastate.edu
Heather Sauer, Design Communications, (515) 294-9289, hsauer@iastate.edu
-30-