WallWalk Exhibition
Student work created in Rome on display Aug. 30-Sept. 10 in Gallery 181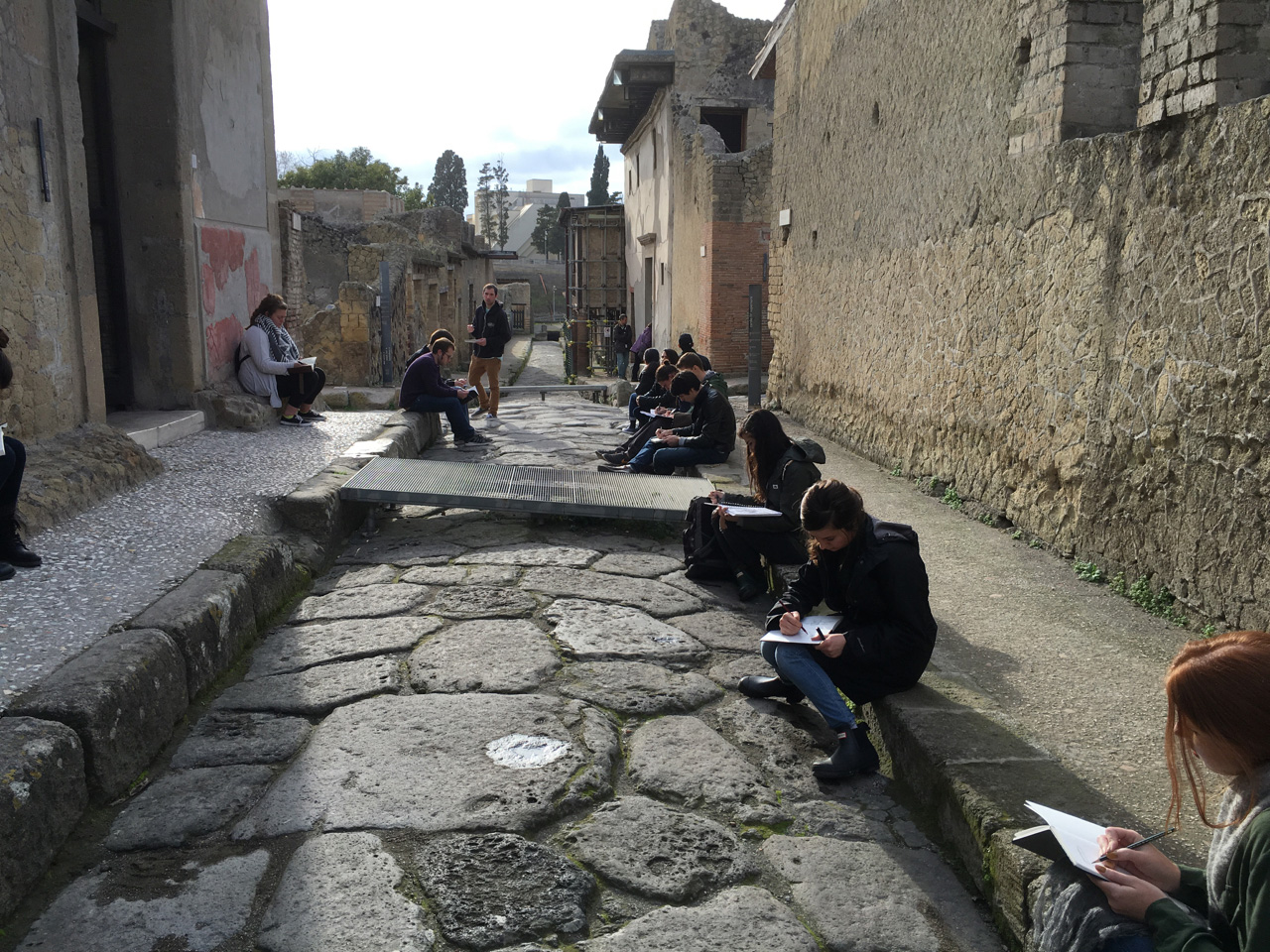 08/30/16
AMES, Iowa — Projects by 40 Iowa State University students who studied in Italy last spring will be exhibited Aug. 30 through Sept. 10 in the ISU College of Design's Gallery 181.
"Mura Aureliane/WallWalk" will feature projects created by 31 architecture and nine landscape architecture students who participated in the spring 2016 College of Design Rome Program. The show will include collages, digital renderings, sketches and sketchbooks, maps, photographs, videos and sound recordings.
A public reception will begin at about 6:45 p.m. Friday, Sept. 9, in Gallery 181 and the college's Lyle E. Lightfoot Forum, following the Department of Architecture's Premiere 16 student scholarship and awards ceremony (4:30 – 5:30 p.m.) and a guest lecture by Ray Calabro, FAIA, principal of Bohlin Cywinski Jackson (approximately 5:30 – 6:30 p.m.), both in Kocimski Auditorium, 101 College of Design.
During their semester abroad, students completed drawing, studio and architectural history courses and seminars. Classes were taught by Iowa State Associate Professors Karen Bermann and Mikesch Muecke, architecture (studio and drawing); Associate Professor Michael Martin, landscape architecture (studio and drawing); and Rome Program Resident Director Pia Schneider (seminar), together with Rome-based instructors Simone Capra (studio and drawing), Jan Gedane (architectural history), Linda Nolan (architectural history), Tom Rankin (seminar) and Carol Taddeo (architectural history).
The architecture studio operated under the overall title "Along + Across + Between: Rome as a Network of Multiples," focusing on the Aurelian Wall through the international WallWalk initiative, said Muecke.
"Many parts of the urban landscape of Rome have been lost or substantially transformed over the centuries, but the infrastructure of the Aurelian Wall remains. Its massive 19-kilometer-long masonry construction, initially built by the emperor Aurelian in five years— 270-275 CE (Christian Era)—to defend the city along its perimeter, went through a historic process of transformation, repairs, addition, neglect and adaptation that presented us with an urban infrastructure placed between the historic and the contemporary city, both physically and metaphorically," Muecke said. "This is why we gave particular attention to conditions of within/without, along, across and specifically tra, the Italian word for between."
Aurelian Wall
The wall served as the focus of all four of the architecture studio's projects. The second and final projects were collaborations between the architecture and landscape architecture studios and drawing courses.
"The Aurelian Wall is embedded within the medieval-Renaissance-Baroque-industrial-modern city that grew up inside and outside its confines; the wall has been partly erased, and where it remains at least partly intact, it has been heavily modified to accommodate modern infrastructure and contemporary life," Martin said.
"The students confronted the opportunities and constraints that derive from the wall's identity as a barrier and as an artifact that defines inside and outside landscapes. Students dealt with issues of access (vehicles and pedestrians), preservation and enhancement of the wall and its landscape corridor as connective open space."
In one collaborative project, the classes focused on a particular "node" or point of intersection between the wall and the adjacent environment, the inside and the outside as well as above and below the wall. Through analysis and design, students' task was to make what is audible, ephemeral or fleeting more perceptible using diagrams, sound, video and montage.
In the second collaborative project, students designed contemporary architecture within a historical and multi-layered site, "managing the language of contemporary design in relation to the architectural languages of the past, against the idea of the site as an empty space or blank slate. In this sense the project was intended as an instrument to interpret and perform a site," Muecke said.
Centro Storico
Landscape architecture students additionally completed two projects focused on "reading" and interpreting urban landscapes within Rome's Centro Storico, the historical center of the city, which is circumscribed by the Aurelian Wall. The projects—in which each student selected a particular street and a particular piazza to study—"were designed to get the students deeply engaged within urban places of contemporary Rome, in order to understand them as humane 'people' environments that offer design lessons that might be applied elsewhere by a practicing landscape architect," Martin said.
For the urban drawing class, landscape architecture students developed sketchbook/journals of illustrations and annotations based on thematic walks through Rome focused on specific neighborhoods or urban elements, such as courtyards, basilica interiors, bridges, etc.
Course instruction was supplemented with lectures and walking tours guided by local experts and enhanced with field trips to the north and south of Italy, which provided students with an opportunity to explore other cities with walls that owe much of their form to those defensive enclosures. Iowa State students also collaborated with teams from Roma Tre University in a three-day sketch workshop (charrette) at Roma Tre's campus in Testaccio.
Gallery 181
Gallery 181 is located on the first floor of the College of Design building on the west side of the Iowa State campus. Exhibition viewing hours are 8 a.m. to 5 p.m. Monday through Friday and by special arrangement. Closed weekends and holidays. Admission is free.
Contacts:
Mikesch Muecke, Architecture, (515) 294-8786, mikesch@iastate.edu
Michael Martin, Landscape Architecture, (515) 294-8974, mdmartin@iastate.edu
Heather Sauer, Design Communications, (515) 294-9289, hsauer@iastate.edu
-30-