Bishop Family Shelter
Iowa State architecture students, faculty design and build new shelter for Urbandale's Dunlap Park and Arboretum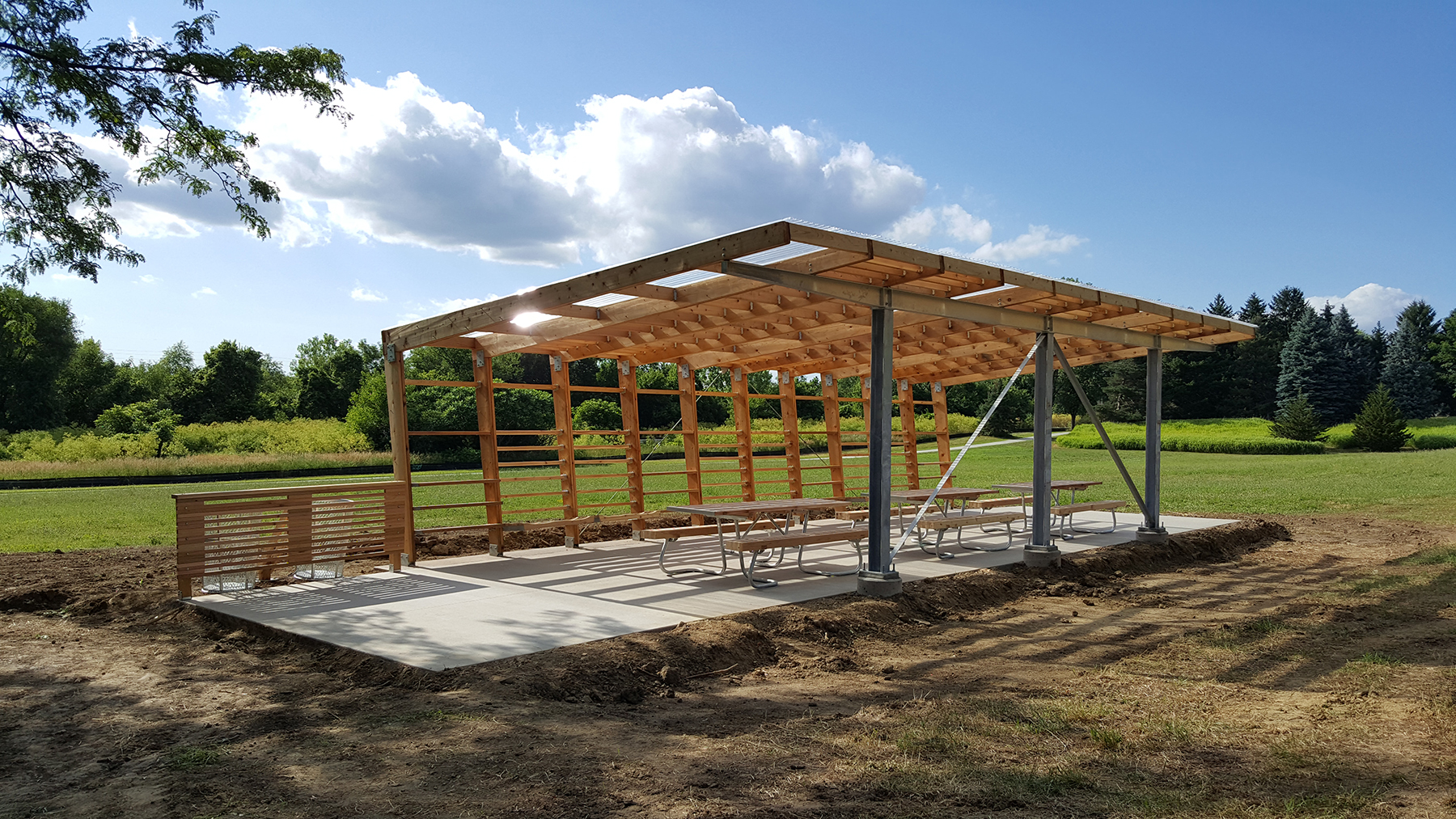 08/16/16
AMES, Iowa — A new shelter designed and constructed by Iowa State University architecture graduate students and faculty for the Jackaline Baldwin Dunlap Park and Arboretum in Urbandale will be dedicated in a public event Tuesday, Aug. 30.
The Bishop Family Shelter dedication and ribbon-cutting ceremony will be at 5:45 p.m. at the shelter, located at 3040 Sherry Ln., Urbandale. The event will include brief remarks by Urbandale Mayor Bob Andeweg; Urbandale Parks and Recreation Director Jan Herke; Chuck Bishop, president of Bishop Engineering in Des Moines; and Iowa State Assistant Professors Shelby Doyle and Rob Whitehead.
The Bishop Family Shelter was funded through a donation made to the City of Urbandale in memory of Bishop's mother, Marianne, who died in 2012 and had been a longtime supporter of Urbandale and the park system.
"We were waiting for the right project we thought would be appropriate for a memorial," Herke said. "When we were gifted the property for the Dunlap Park and Arboretum last year, we knew we wanted to build an outdoor shelter to help visitors enjoy the park. We visited with Chuck and he was very supportive of the idea."
Based on prior experience working with the ISU College of Design on Urbandale's Lakeview Park Shelter, Herke approached Doyle and Whitehead last October about the project. The instructors made it part of their architecture service-learning graduate studio this summer.
Durable and beautiful
Because of time constraints—the class is just eight weeks long—the faculty members developed design drawings for the basic shelter in the spring and created a phased construction schedule. Professional contractors assisted in the structural engineering, framing, concrete and electrical work, which allowed students to work alongside experienced experts in the field and to ask questions.
"It was a great opportunity for students to see how concrete is poured, for example, and how form work is different in reality than it is on paper," Doyle said. "Learning the difference between the 'perfect' drawing or computer model and the realities of the site is important. It makes them better architects."
The 16-by-40-foot structure consists of a galvanized steel and cedar wood frame with a corrugated plastic roof like those often seen on greenhouses.
"[The parks and recreation department] wanted something durable and low maintenance that won't require a lot of upkeep," Whitehead said. "The galvanized metal doesn't need to be painted, and we left the cedar unstained so it can age naturally. The materials also help integrate the shelter with the landscape."
The faculty chose a site that's visible from the parking lot but still feels like it's set apart, oriented on an axis with a historical windmill to the north and a group of mature trees to the south to provide shade. The structure is covered to provide some protection from rain, but the open framing retains views and permits breezes to circulate.
"It is a beautiful spot with all the trees and a perfect place for a shelter," Herke said.
When class started in mid-May, the eight first-year graduate students were tasked with designing tables and seating for the shelter, landscaping and screening elements to conceal trash receptacles and portable toilets nearby.
"We wanted to highlight the structure itself, which is really beautiful, and ensure that everything we did reads as a single unit," said Saranya Panchaseelan, Bangalore, India. "We had to consider our budget, goals and time line so that we could accomplish something realistic and practical."
Functional, safe and accessible
Students met with the Urbandale parks and building departments and attended a public ribbon-cutting ceremony for the Dunlap Park and Arboretum to share their conceptual ideas with city staff and community members and learn important issues to consider for maintenance, security and functional use of the shelter.
"It's a public space, so it needs to be accessible, safe and easy to maintain," said Noel Gonzalez, Sioux City. "They talked to us about preventing birds from nesting and keeping people from climbing the structure. They also mentioned a concern with other park shelters—people couldn't use them very well for events because they had no place to set or store their stuff."
In response to this input, students designed ergonomic bench seating with backrests along the east wall of the shelter and shelves in between that serve as shading devices as well as a place to set items like crock pots, warming trays and food containers. Electrical outlets beneath the shelves and benches accommodate appliances and phone chargers.
"The benches and shelves were an insightful response to the clients' needs," Whitehead said. "They make the shelter functionally and aesthetically unique."
Students also designed three picnic tables with table tops and bench seats constructed of 2×4 cedar lumber in a pattern that mimics the structure.
"The spaces between the boards in the benches and tables echo the spaces between the shelves and the roof beams and this repetition becomes a pattern," Panchaseelan said. "All the shadow is multiplied and the subshadowing reads beautifully."
The class also designed an enclosure for the toilets and a fence around the trash cans with the same materials and pattern to tie everything together visually. Low-energy LED lighting over the benches will make the shelter more functional, visible and safe for evening use but will turn off automatically at park closing time.
Service-learning through design-build
Time constraints again meant students researched lighting and landscaping options and helped specify materials, but the Urbandale Parks and Recreation Department completed installation of these items. Tall grasses and perennial plants will help screen the shelter, channel stormwater and discourage climbing.
"A lot of the value for students was being able to go through the whole process of bringing an idea to fruition," Doyle said. "They experienced all the challenges related to budget, bidding, logistics, safety, public approval and construction. The difference between having an idea and having it become architecture—that's powerful."
Another significant part of the class is the service-learning component—"reaching out to the community we serve through design-build, filling a need where design services typically don't occur and working with local contractors and suppliers," she said.
In addition to Gonzalez and Panchaseelan, students involved in the project included Shawn Barron, Sioux Falls, S.D.; TJ Hammersland, Ketchikan, Alaska; Cynthia McCall, Corona, Calif.; Mark Moeckl, West Des Moines; Kimya Salari, Tehran, Iran; and Sai Mohan Ranga Rao Ummadisetty, Vijayawada, India.
Local contractors involved in the project were Raker Rhodes Engineering (structural engineering), Concrete Technology Inc. (forming and pouring concrete), Hildreth Construction (framing), A&W Electric Inc. (lighting) and DWF Garden (landscaping).
Following the Aug. 30 dedication, the shelter will be added to the Urbandale Parks and Recreation Department's facility reservation calendar, director Herke said, although people are welcome to use it now.
"Neighborhood residents can drop by just to sit and enjoy the space, and we're also offering it as a rental facility for birthday parties, family reunions, weddings, etc.," she said. "The Iowa State students and faculty did a great job on the project. They really listened to our wishes and created a fitting memorial to Mrs. Bishop."
Contacts:
Jan Herke, Urbandale Parks and Recreation, (515) 331-6793, JHerke@urbandale.org
Shelby Doyle, Architecture, (515) 294-8711, doyle@iastate.edu
Rob Whitehead, Architecture, (515) 294-8276, rwhitehd@iastate.edu
Noel Gonzalez, Architecture graduate student, noel8@iastate.edu
Saranya Panchaseelan, Architecture graduate student, sara0409@iastate.edu
Heather Sauer, Design Communications, (515) 294-9289, hsauer@iastate.edu
-30-