Confluence Prize Winners
Student proposals for educational bird rehabilitation center, neighborhood revitalization plan win 2023 Confluence, Inc. Landscape Architecture Studio Prize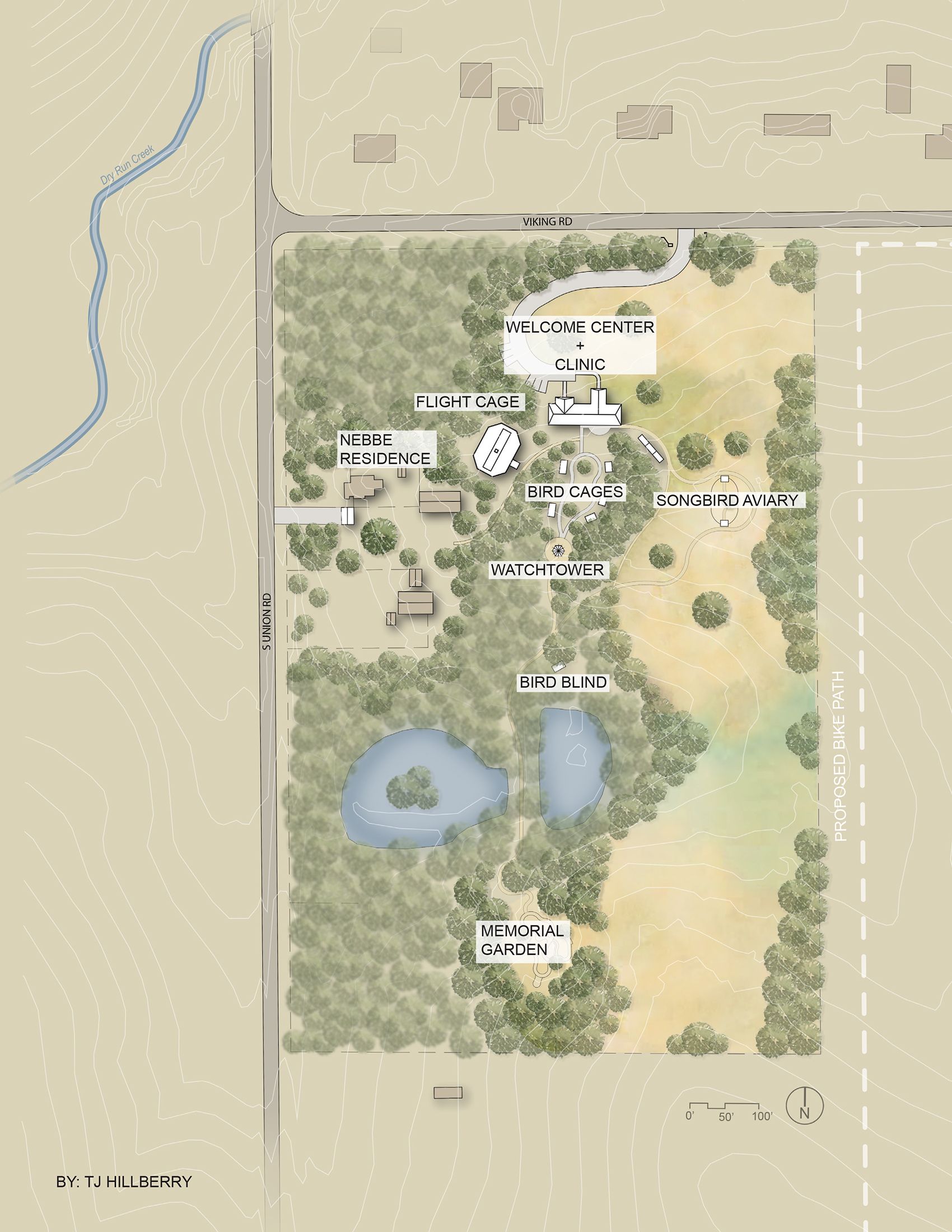 05/06/23
AMES, Iowa — Three Iowa State University landscape architecture students won the 2023 Confluence, Inc. Landscape Architecture Studio Prize awarded by the Department of Landscape Architecture. One student won an honorable mention award in the competition.
Fourth-year students Lexi Banks, from Dyersville, Iowa, and Linus Larson, from Eagle Grove, Iowa, joined fifth-year student TJ Hillberry, from Iowa City, Iowa, in winning the top prize of $2,000 each for their proposals.
Banks' project "Restoring Rondo" and Larson's project "Safe Haven District" are conceptual revitalization plans for an underserved community in St. Paul, Minn., that lies west of the State Capitol and north of Interstate 94. Both projects aim to provide affordable housing and resources for current low-income families and future migrant families in the area.
Hillberry's "The Legacy Project" details plans to expand a former farmstead located in Cedar Falls, Iowa, to enhance the owners' efforts to rehabilitate birds of prey and provide educational opportunities for visitors.
Fifth-year student Brendan McAleer, from Arlington Heights, Ill., received an honorable mention award of $1,000 for "Earth Turtle Farms," a project to conserve and protect the natural environment while providing a recreational space for visitors to the Upstate New York community of Hammond.
About the prize
The studio prize was established by Confluence, Inc. — one of the largest and most-decorated landscape architecture, urban design and planning firms in the Midwest — to recognize outstanding student work, advance the landscape architecture discipline and elevate the ISU landscape architecture department's profile across the nation.
Landscape architecture faculty nominated undergraduate and graduate students in the department to present work they completed last fall in the third annual juried competition held virtually in April.
This year's competition was juried by Lisa Switkin, senior principal at James Corner Field Operations in New York City; Joe Favour, associate professor in practice in landscape architecture at the University of Minnesota; and Kevan Klosterwill, a landscape designer, planner and researcher based in northeast Iowa.
Revitalizing St. Paul's Rondo Neighborhood
Banks and Larson developed their winning projects in the fall 2022 LA 402: Urban Design studio taught by lecturer Nate Byro and associate professor Heidi Hohmann.
They each developed proposals for the Rondo Neighborhood in St. Paul, Minn. — a formerly thriving community of mainly working-class Black families that declined significantly with the construction of Interstate 94 in the late 1960s.
Banks' "Restoring Rondo" focuses on building the framework to recreate a strong community. Her plan includes building new apartment complexes and homes, a basketball court, a skatepark, a church and business spaces.
Jurors noted they appreciated Banks' pedestrian-centric design, her strong understanding of the area's history and her persuasive arguments for making the proposed changes.
Larson's "Safe Haven District" considers how climate change is impacting populations across the globe and how refugees move to escape desertification and rising sea levels. His project proposes a district that provides institutional support and resources for climate migrants and low-income families, including a new school, a community garden, affordable apartments, a church and mixed-use buildings.
Jurors said Larson's proposal does a good job of utilizing the land it's on by reconnecting streets, creating a variety of open spaces and developing new facilities.
The Legacy Project
Hillberry created "The Legacy Project" in associate professor Caroline Westort's fall 2022 LA 404: Advanced Landscape Architectural Design studio.
His plan for the Cedar Falls site outlines a collaboration with the Black Hawk Wildlife Rehabilitation Project and proposes transforming the 22-acre former farmstead into a raptor rehabilitation center with a welcome center and clinic, bird cages, a watch tower and a memorial garden.
The project also considers how the family that owns the land can continue to reside there and maintain their own private spaces and driveway.
Jurors commended Hillberry's excellent verbal presentation skills and the strength of his detailed program for the site. They also highlighted his hand-drawing skills.
Earth Turtle Farms
McAleer developed "Earth Turtle Farms" in associate professor Bambi Yost's LA 404 studio last fall.
His proposal for the 156-acre farm in Upstate New York would add rental lodging options like "hobbit homes" and an apple orchard with a cidery on site. His plan includes working with local conservation and wildlife protection groups to protect the property's wetlands and wildlife.
Jurors commented on McAleer's thorough research and presentation, which convincingly considered the viability of the proposal, they said.
Contacts
Lexi Banks, Fourth-Year Landscape Architecture Student, ajbanks@iastate.edu
TJ Hillberry, Fifth-Year Landscape Architecture Student, tjhil@iastate.edu
Linus Larson, Fourth-Year Landscape Architecture Student, lplarson@iastate.edu
Brendan McAleer, Fifth-Year Landscape Architecture Student, bmcaleer@iastate.edu
Carl Rogers, Landscape Architecture Department Chair, rogersc@iastate.edu
Lauren Johnson, College of Design Communications Specialist, laujohn2@iastate.edu
-30-