CRP Grad Club Lecture
ISU Community and Regional Planning Graduate Club to host April 13 lecture by urban planner, social science scholar Hsi-Chuan Wang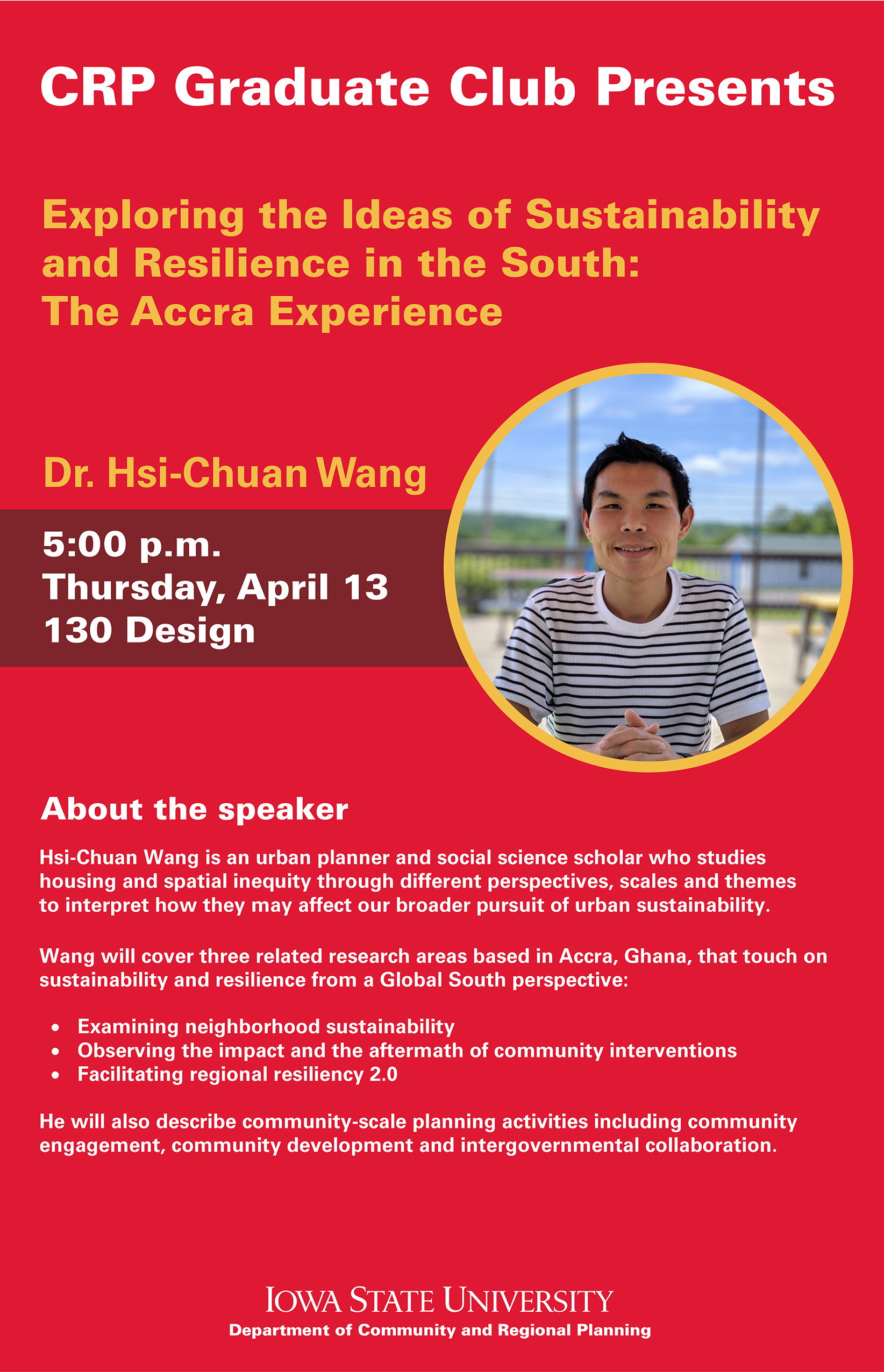 04/06/23
AMES, Iowa — Urban planner and social science scholar Hsi-Chuan Wang will present "Exploring Ideas of Sustainability and Resilience in the South: The Accra Experience" Thursday, April 13, at Iowa State University.
Organized by the Community and Regional Planning Graduate Club, Wang's lecture will begin at 5 p.m. in room 0130 College of Design.
Wang studies housing and spatial inequality through different perspectives, scales and themes to interpret how they may affect the broader pursuit of urban sustainability. Currently a postdoctoral researcher at the University of Kansas, he previously was a professional urban planner at Kaohsiung Urban Development Bureau and the 2021-22 postdoctoral fellow in the Institute on Municipal Finance and Governance at the University of Toronto.
In his talk, Wang will cover three related research areas based in Accra, Ghana, that touch on sustainability and resilience from a Global South perspective:
examining neighborhood sustainability
observing the impact and the aftermath of community interventions
facilitating regional resiliency 2.0
He will also describe community-scale planning activities including community engagement, community development and intergovernmental collaboration.
Contacts
Jenna Gilliam, CRP Graduate Club President, jennag@iastate.edu
Heather Sauer, College of Design Director of Strategic Communications, hsauer@iastate.edu
-30-