Sherwin-Williams Competition
Iowa State interior design graduate takes second place in national design competition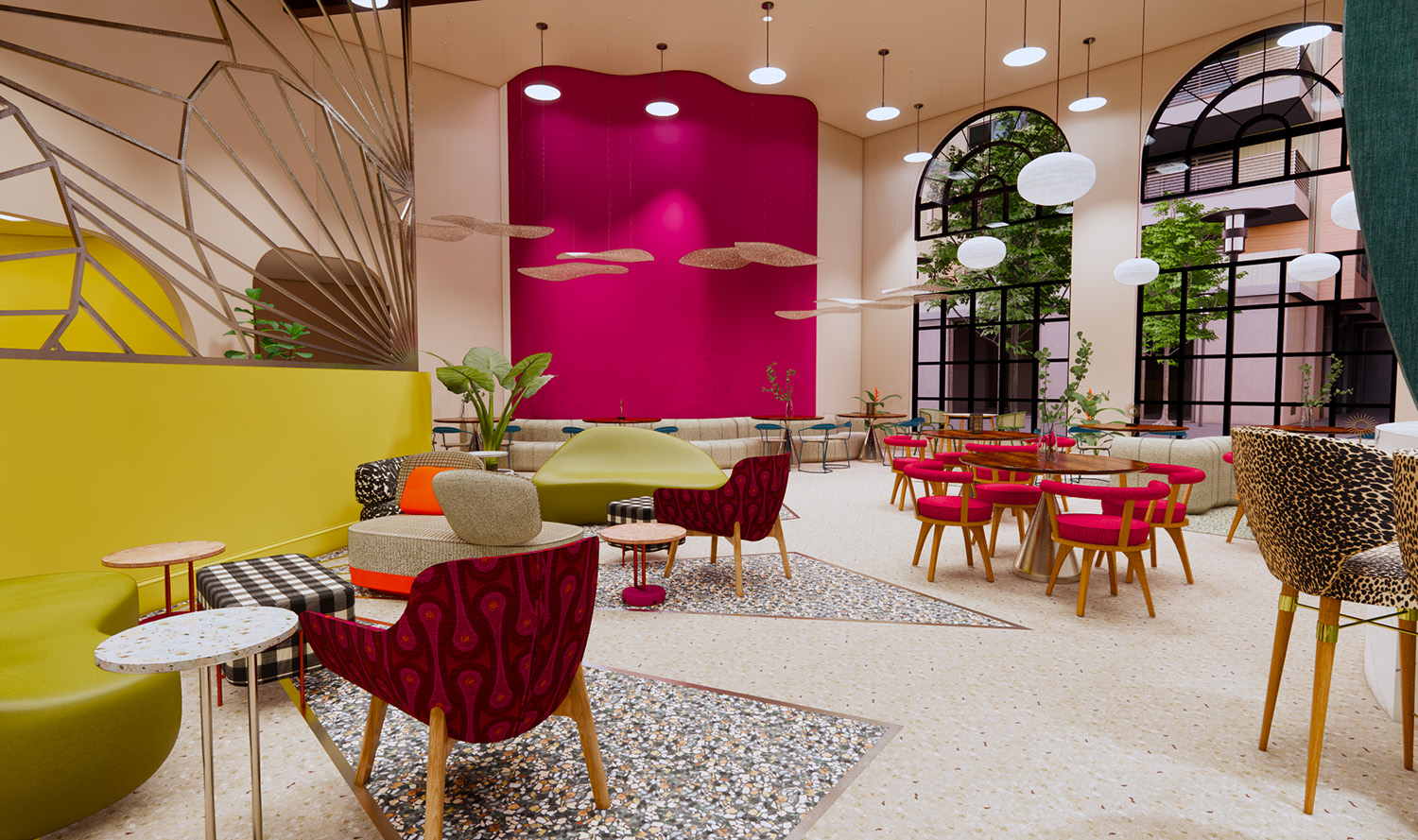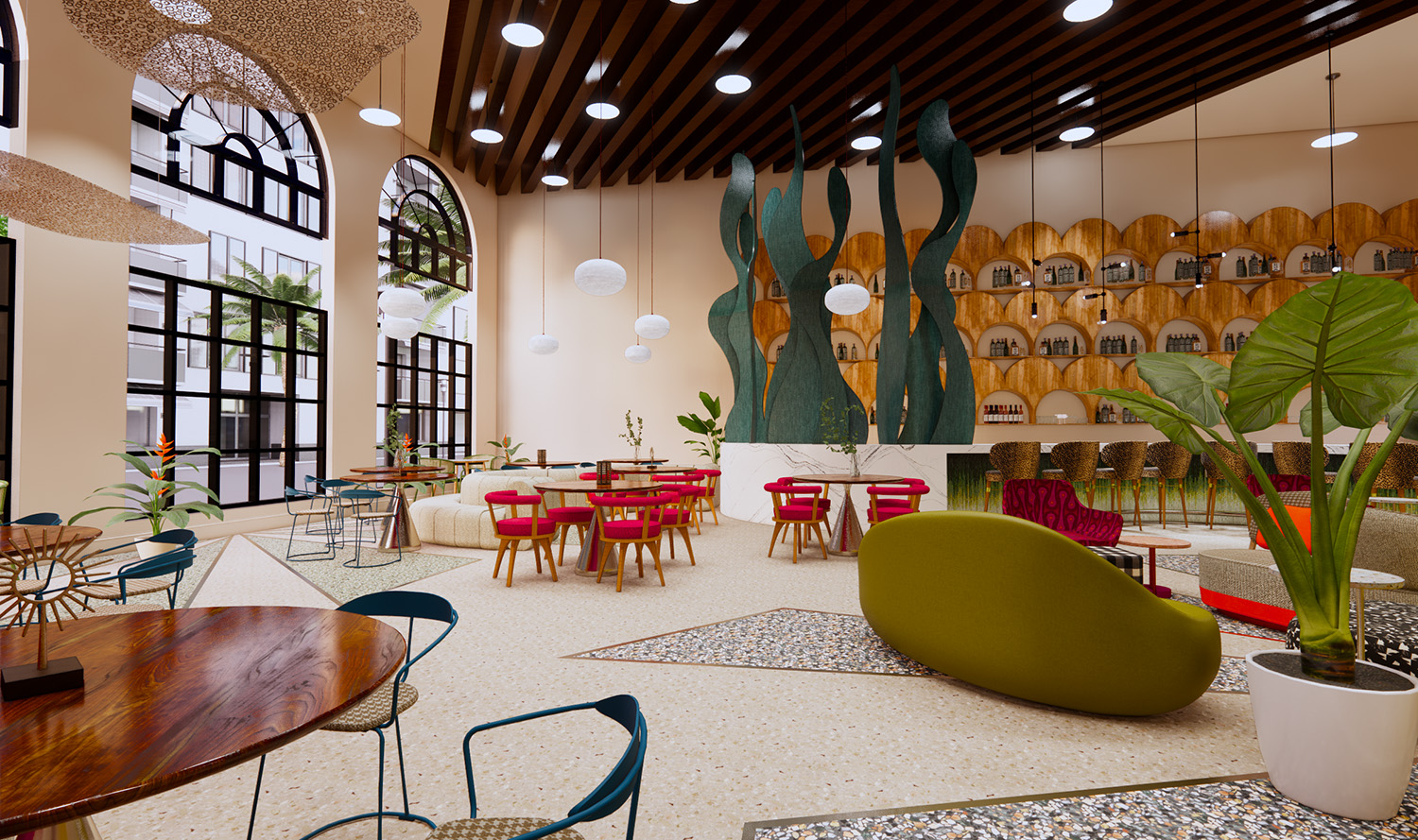 08/07/20
AMES, Iowa — Hannah Halvorson, a recent Iowa State University interior design graduate, won second place in the commercial design category of the 10th Sherwin-Williams Student Design Challenge.
The competition annually challenges students to submit a commercial or residential design project showcasing color renderings of an interior space using at least three Sherwin-Williams colors. Submissions were judged by a panel of nationally respected designers who awarded three cash prizes in each category.
Halvorson, originally from Humboldt and now of Minneapolis, received a bachelor of fine arts in interior design from Iowa State in May. She completed her winning project, "Fresh and Fauves," as part of an assignment for the ARTID 569B: Advanced Color Studio during her final semester in spring 2020.
Halvorson wanted to have fun with her submission, she said, creating a vibrant piece inspired by Fauvist artist Henri Matisse's painting, "Open Window, Collioure."
"I have always loved color and am notorious for using bright and bold colors in my artwork, so naturally, the Fauvist period stood out to me," Halvorson said.
"As a huge fan of Matisse and his work since learning about him in my high school art classes, it's inspiring that he abandoned his muted, earthy color palette for a bright, bold and nonsensical one."
'Fresh and Fauves'
From the painting's subject, a window looking out to a bay with boats, Halvorson decided to create "an abstracted space that is a colorful and lively coral reef underwater," she said. The "unexpected and arbitrary colors" helped her develop "a unique and fresh color scheme" for her project, a boutique hotel's restaurant and bar with a variety of seating preferences and arrangements.
Her final color palette featured Sherwin-Williams' "Limón Fresco," "Forward Fuschia," "Bungalow Beige" and "Loyal Blue."
In addition to the painting, Halvorson turned to Pinterest for images to create a visual concept board. She then developed a concept statement and buzzwords to describe the project.
After solidifying her concept, Halvorson began designing using software such as Revit, Enscape, Adobe Photoshop and Adobe InDesign. These programs made viewing and lighting the entire design much more efficient, allowing her to experiment with the atmosphere, furnishings, floor plans and finishes, she said.
"From start to finish, this project was entirely digital," Halvorson said.
For her second-place distinction, Halvorson received a $1,000 prize, a feature on the Sherwin-Williams Facebook page, a color palette and a color forecast fan deck.
Commercial design work
At the time of her contest application, Halvorson had been working as an intern with JLG Architects since May 2019, in-person in their South Dakota office over the summer and remotely during her final year at Iowa State. After graduation, she joined the firm full time as an interior design project support in their Minneapolis office, where she hopes to focus on commercial design work in the areas of higher education, athletics, workplaces and healthcare.
Contacts
Hannah Halvorson, hmhalvorson@gmail.com
Meg Grice, Design Communications, mgrice@iastate.edu
Heather Sauer, Design Communications, hsauer@iastate.edu
-30-