NOMAS Recognition
Iowa State multicultural design student organization wins recognition in national competition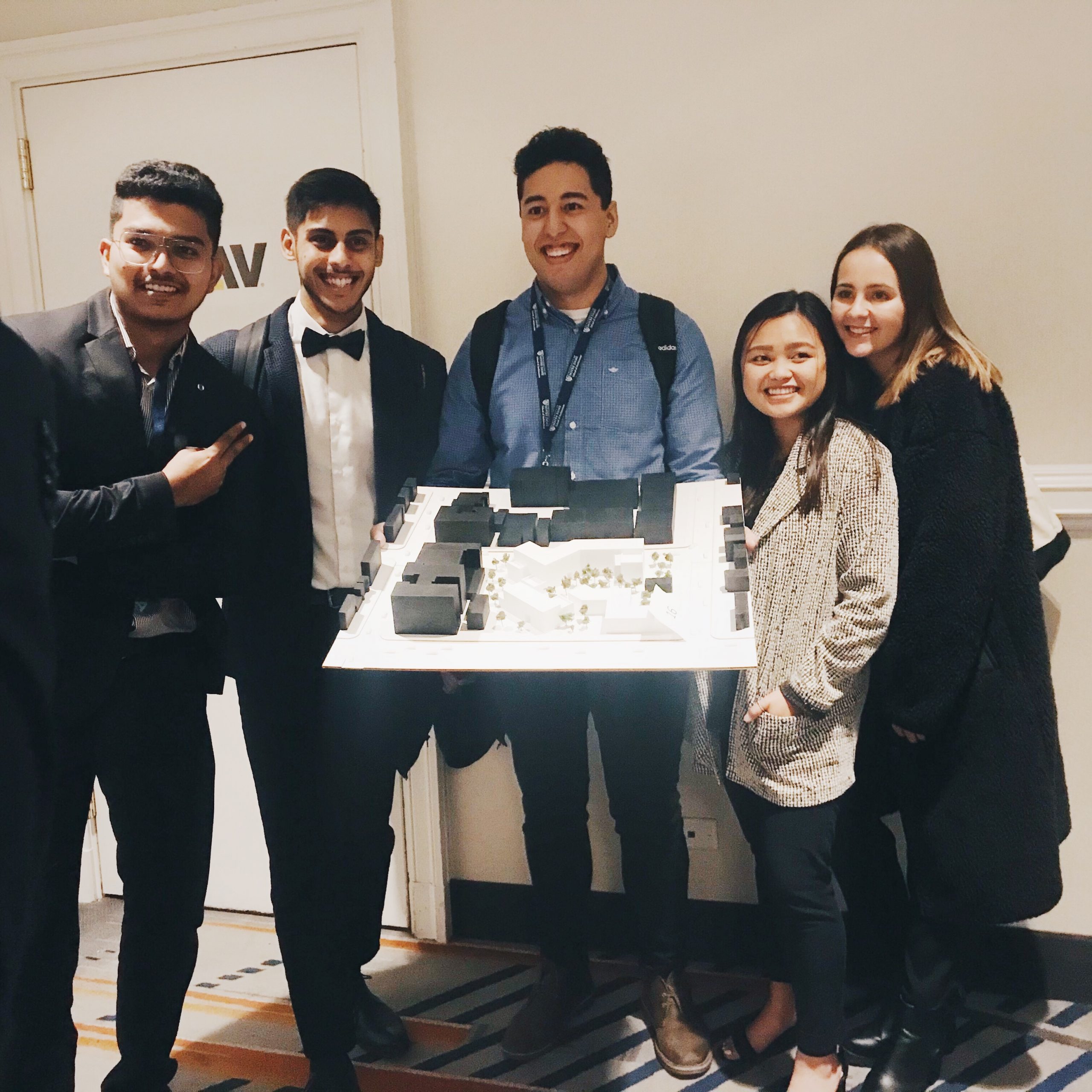 10/30/19
AMES, Iowa — A group of Iowa State University College of Design students placed in the top seven in the Barbara G. Laurie Student Design Competition hosted by the National Organization of Minority Architects (NOMA) at its annual conference Oct. 16–20 in New York City.
The competition asked students to create a mixed-income residential development that included independent senior living and affordable housing as well as commercial, retail and community spaces. The Iowa State chapter of the National Organization of Minority Architecture Students (NOMAS) placed in the top seven entries from 39 schools and advanced to the second round with their conceptual project "Learning In A Place," an adaptable space focused on educational opportunities for residents in the Flatbush neighborhood of Brooklyn.
Five NOMAS members traveled to New York to represent Iowa State in the competition: fifth-year architecture students Obhishek Mandal of Mumbai, Vinay Porandla of Hyderabad, India, Marilyn Stephanou of Tseri, Cyprus, and Alyanna Subayno of Cedar Rapids; and fourth-year student Henry Melendrez of Perry.
They also had the opportunity to attend lectures, educational seminars and an exposition of design firms and universities at the conference.
"The student competition gets bigger every year, so for us to make it in the top seven is a huge deal and just an ode to all the work we've put in. For like the first eight months of working on this project, we were all in different places. It was very hard," said Subayno, the Iowa State NOMAS president.
The team began working on the competition project in January, while three of the students were studying abroad in Rome and two were in Ames. After the spring semester ended, the challenges for the group remained, with members scattered in Europe, India and across the US in Portland, Boston and Des Moines.
"It was a lot of Skyping and learning how to design over Skype, basically. But to still make the top seven just shows you can work through anything. And this brings us to a national level where we can compete with other top schools like Syracuse and Cornell," Subayno said.
'Learning In A Place'
The Iowa State team's focus was education, Subayno said.
"The site was in a neighborhood called Flatbush, and after doing a lot of research we found that students there just weren't performing as well as students from other neighborhoods due to lack of educational resources," she said. "Our main focus on the ground floor was to provide learning spaces for students and adults. We made the space so that it's very adaptable, that one day you could have a cooking class and the next day there could be a dance class or something."
The Iowa State NOMAS chapter is a campus club that represents multicultural students within the College of Design. They aim to provide a safe space for students of underrepresented ethnicities and backgrounds to develop their professional skills through networking opportunities and community engagement.
"Being here and finding people that I can relate to with different backgrounds and different cultures is really important. Having that safe space and being able to talk with people about your culture is really valuable," Subayno said.
Subayno was vice president of the club for the past two years and this year serves as president. She said NOMAS has helped her develop her leadership and time-management skills as well as work better on a team and learn to delegate.
They are currently expanding NOMAS from architecture to all design majors, so that everyone involved can have a more interdisciplinary experience and learn from different design perspectives, she said.
The student organization received travel support to attend the NOMA'19 conference from the Iowa chapter of the American Institute of Architects, CMBA Architects, RDG Planning and Design, the ISU Department of Architecture, the ISU College of Design and the ISU Alumni Association.
Contacts
Alyanna Subayno, Architecture student, asubayno@iastate.edu
Hailey Allen, Design Communications, hallen15@iastate.edu
Heather Sauer, Design Communications, (515) 294-9289, hsauer@iastate.edu
-30-