Student Marshal
Integrated studio arts graduating senior Breanna Kixmiller is ISU College of Design's student marshal for spring commencement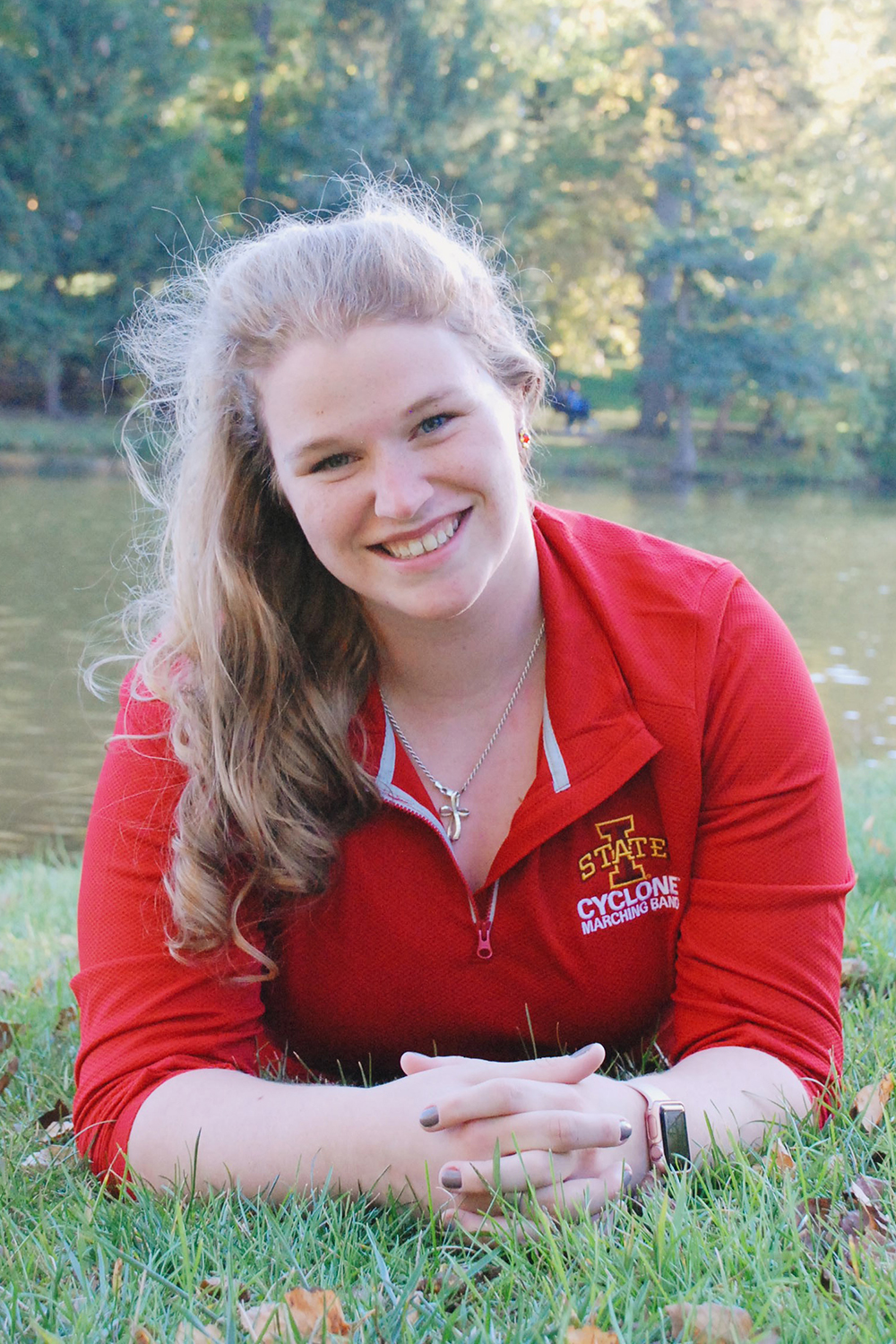 04/16/18
AMES, Iowa — Breanna Kixmiller of Atlantic will represent the Iowa State University College of Design as its student marshal at the university's public commencement exercises Saturday, May 5, at Hilton Coliseum. Her faculty escort will be Teresa Paschke, professor of art and visual culture.
Kixmiller will graduate summa cum laude with a Bachelor of Fine Arts in integrated studio arts and a double-minor in performing arts and political science.
Kixmiller was on the Dean's List and placed in the top 2 percent of her class every semester at Iowa State. She was the keymaster for the Cardinal Key Honor Society and a member of the University Honors Program.
She played sousaphone in the ISU Cyclone Football "Varsity" Marching Band and in the men's and women's basketball pep bands and was a member of the T.U.B.A.S. student organization. She also served as a Cyclone Aide and student associate for ISU New Student Programs and as a student admissions representative for ISU Admissions.
She won Best of Show for her acrylic painting "Truth and a Lie" in the 2015 Studies in Creativity juried exhibition sponsored by the ISU Student Union Board, and Top Adult Acrylic Painting in 2016 and second place in 2017 in the Iowa State Fair Open Class Art Show. Her artwork was accepted into several other exhibitions at the Iowa State Memorial Union and the Octagon Center for the Arts in Ames. She won the  2018 SDA Outstanding Student Award from the Surface Design Association for innovative work in textile media.
Kixmiller chose Paschke, who taught five of her studio courses, as her faculty escort because Paschke's classes "increased my passion for textiles and opened my eyes to the possibilities of where I could go with my art," she said. "She's been incredibly supportive while I applied for graduate school." After graduation, Kixmiller will return to Iowa State to pursue her master's degree in student affairs.
The daughter of Bob and Julie Kixmiller of Walnut, Kixmiller is a 2014 graduate of Atlantic High School. Her brother, Ben Kixmiller, received a Bachelor of Science in computer engineering from Iowa State in 2017.
Contacts
Breanna Kixmiller, Integrated Studio Arts graduating senior, breekix@iastate.edu
Teresa Paschke, Art and Visual Culture, (515( 294-1656, tpaschke@iastate.edu
Heather Sauer, Design Communications, (515) 294-9289, hsauer@iastate.edu
-30-