Common Threads III Exhibition
Common Threads III collaborative exhibition at ISU Design on Main Gallery Oct. 1-31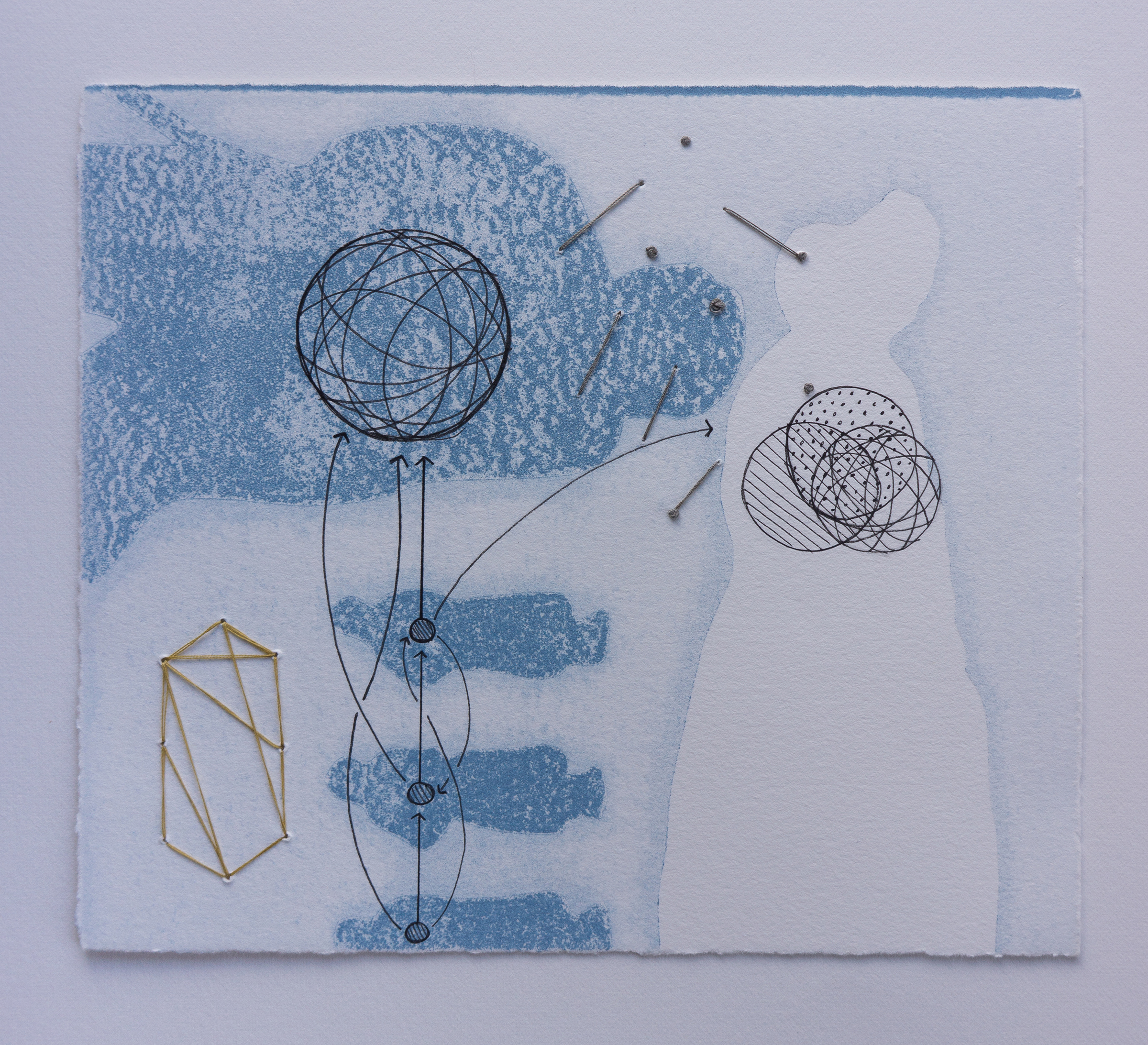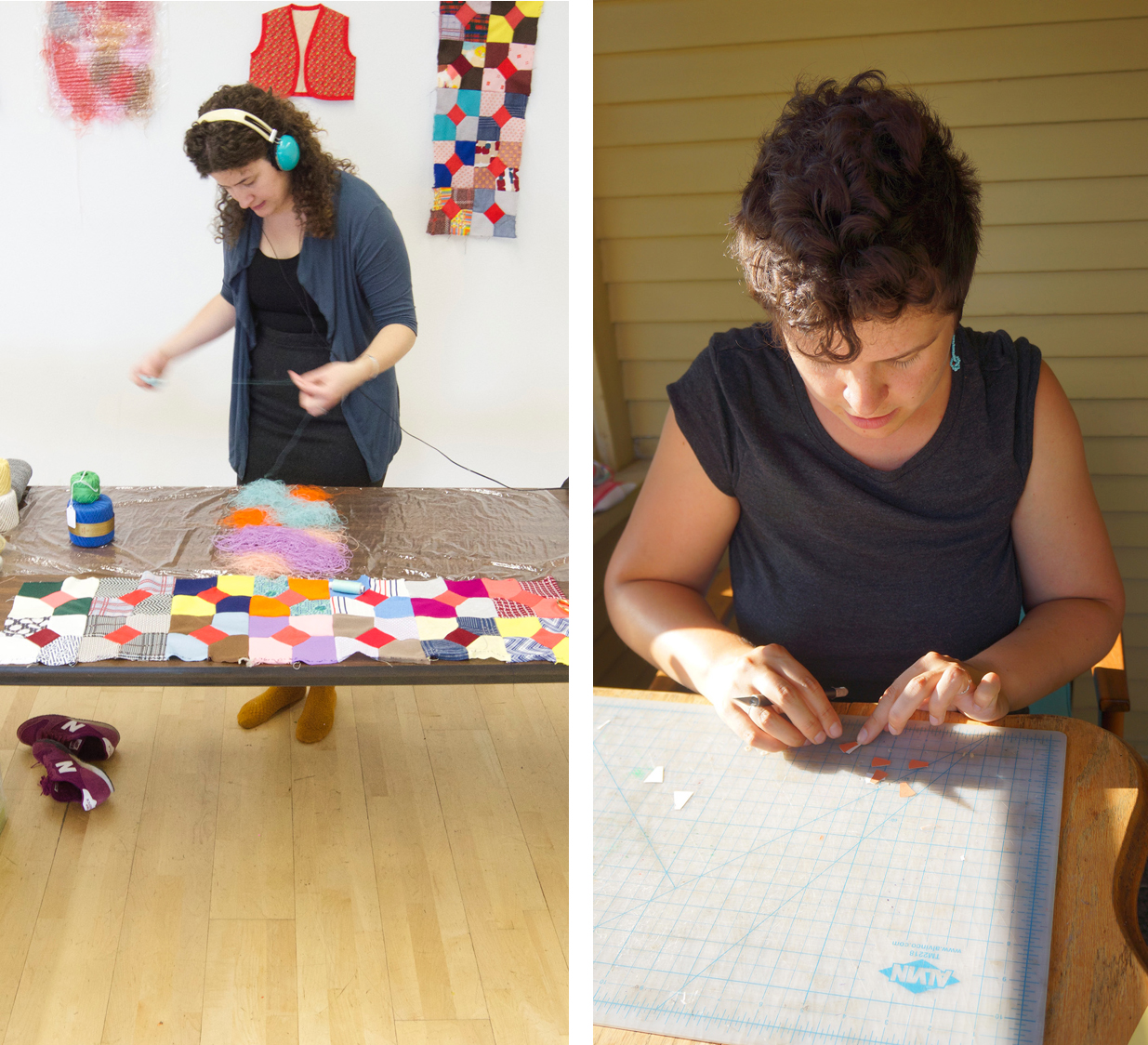 09/21/16
AMES, Iowa — A collaborative exhibition by local fiber artist Catherine Reinhart and Minnesota printmaker and fiber artist Allison Wegren Metzger will be on display Oct. 1-31 at the Iowa State University Design on Main Gallery, 203 Main St., Ames.
"Common Threads III" will feature a series of works on paper and an interactive installation inspired by artwork on the Iowa State campus. The show will open with a reception from 6 to 8 p.m. Saturday, Oct. 1. Gallery hours are 2-5 p.m. Wednesday, Friday and Saturday.
Based on Grant Wood's murals "When Tillage Begins" and "Other Arts Follow" in the ISU Parks Library, the driving concepts for the work in "Common Threads III" are growth—both agrarian and societal—and the importance and challenges of creating community, Reinhart said.
"Allison and I share aesthetic sensibilities and conceptual interests in community and the domestic and societal roles of women. These interests intersect well with the scenes depicted in Wood's murals," she said.
"Our goal is to honor the rich history of the art and artists of Iowa and to cultivate relationships between ISU students and the local community, while simultaneously challenging ourselves with a new experience of working collaboratively," she said.
The artists created the paper artworks through drawing, printing, stitching, collage and dyeing processes with color palettes drawn from the murals, mailing the pieces back and forth throughout the collaborative process. For the sculptural installation, which references figures and forms in the murals, they constructed simple wooden structures as armatures and will invite the public to help create the installation. Visitors will be provided with thread and encouraged to wrap, arrange and manipulate the installation, giving it a dynamic character.
Public events and gallery talk
Free weekly events from 5 to 7 p.m. Thursdays, Oct. 6, 13, 20 and 27, will promote community involvement and connect local and regional artists with the Ames and Iowa State communities. Nancy Gebhart, visual literacy and learning educator with ISU University Museums, will present a gallery talk on the Grant Wood murals from 7 to 8 p.m. Thursday, Oct. 6. The show also will be open from 10 a.m. to 4 p.m. Saturday, Oct. 8, and noon to 4 p.m. Sunday, Oct. 9, during the Ames Area Studio Tour.
The exhibition is supported by an Iowa Arts Council Art Project Grant, made possible by the Iowa Arts Council (a division of the Iowa Department of Cultural Affairs) and the National Endowment for the Arts.
About the artists
Reinhart received a Bachelor of Fine Arts in integrated studio arts from Iowa State in 2008 and a Master of Fine Arts in textiles with honors from the University of Kansas, Lawrence, in 2012. She has exhibited her work in Iowa, Connecticut, Kansas, Missouri, Nebraska, Oregon, North Dakota, South Dakota and Texas, and her work is in the permanent collections of Kyoto Seika University Department of Media Arts, Kyoto, Japan; Southern Graphics Council Print Collection and Archives, University of Mississippi, Oxford; and University of South Dakota Department of Art. She received an Emerging Voices Award and a personal development grant from the Surface Design Association in 2015.
Metzger received a Bachelor of Fine Arts from Macalester College, St. Paul, Minn., in 2009, and a Master of Fine Arts in textiles with honors from the University of Kansas in 2013. She and her husband, Jonathan, own Midnight Oil Studio and Workshop, a screen printing shop specializing in original, hand-drawn, hand-pulled prints, in Duluth, Minn. Metzger has exhibited her work in Arizona, Illinois, Kansas, Minnesota, Missouri and Virginia as well as France.
Contacts:
Catherine Reinhart, Artist, (641) 414-5000, catherine342@gmail.com
Allison Metzger, Artist, (434) 394-4928, awegren@gmail.com
Kyle Renell, Design on Main Gallery, designonmain@iastate.edu
Heather Sauer, Design Communications, (515) 294-9289, hsauer@iastate.edu
-30-
Save
Save