Graduation
Spring 2021 Graduation Celebration
Congratulations! We are excited to celebrate your achievements during our graduation celebrations. This Spring, the University Commencement and the College Convocations are merged together to deliver one graduation experience. All graduation celebrations will be streamed live on the Iowa State University graduation website, and available to watch at a later date. Review the graduation FAQ page for helpful information and updates on apparel, parking, seating, and more.
Messages of Congratulations
Graduation Celebration Program
Graduation Celebration Livestream
We are incredibly proud of all of our graduates! View the in-person celebration through the Graduation Celebration livestream. We are excited to bring you the pomp, circumstance, and Iowa State commencement traditions to you wherever you may be in Iowa, the country, or around the world.
College of Design Song
Please enjoy our "Love College of Design Song" composed and performed by alumnus Ryan Seiler (BFA 2008 Integrated Studio Arts). This song has become a cherished part of our college convocations.
Student Marshal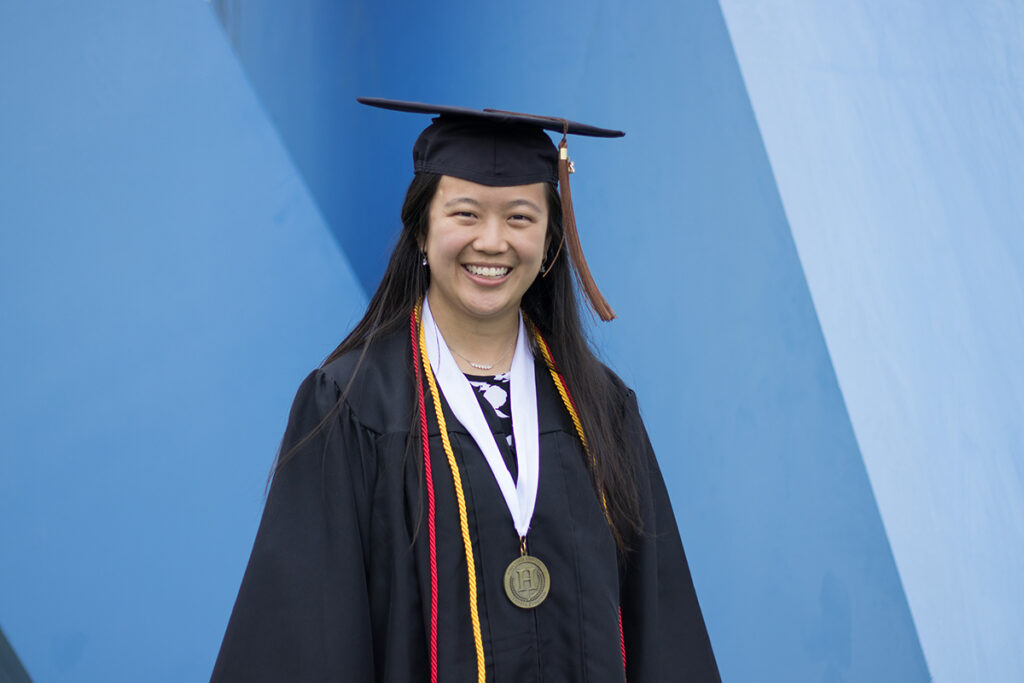 Bethany Trang of Germantown Hills, Illinois, will represent the Iowa State University College of Design as its student marshal at the university's Bachelor's Cyclone Graduation Celebration Saturday, May 8, at Jack Trice Stadium.
A member of the Dean's List and the top 2 percent of her class every semester at Iowa State, Trang will graduate summa cum laude with a bachelor of fine arts in graphic design and a minor in music. She was a George Washington Carver Scholar and a member of the University Honors Program.
Stay Connected to the College of Design
Whether in professional firms, classrooms, nonprofit organizations, home studios, government offices or the community, you're out in the world putting your College of Design degree to work. Although you've left campus, you haven't left the Iowa State family. We want you to stay in touch.
There are many ways for alumni to stay involved and connected to the College of Design, your former classmates, favorite professors and ISU. By keeping us up-to-date on your information and activities, we can keep you up-to-date on the College of Design and alumni happenings at the university.
UPDATE YOUR INFORMATION
If you've moved, changed your name or created a new email address, we want to know. Update your information so we can keep you posted on news and events in your area.
SHARE YOUR NEWS
At the College of Design, we care about what's going on in your life, and so do your former classmates and professors. Whether you started your own business or began a new career, won an award, got promoted or earned another degree, married your sweetheart or welcomed a baby to your family, we want to know. Share your news with us!
DESIGNOTES
Our monthly Designotes e-blast contains information on College of Design alumni, faculty, students, programs and activities that may be of interest to you. The e-blast is sent the second Thursday of every month. To sign up, send an email to designotes@iastate.edu
SOCIAL MEDIA